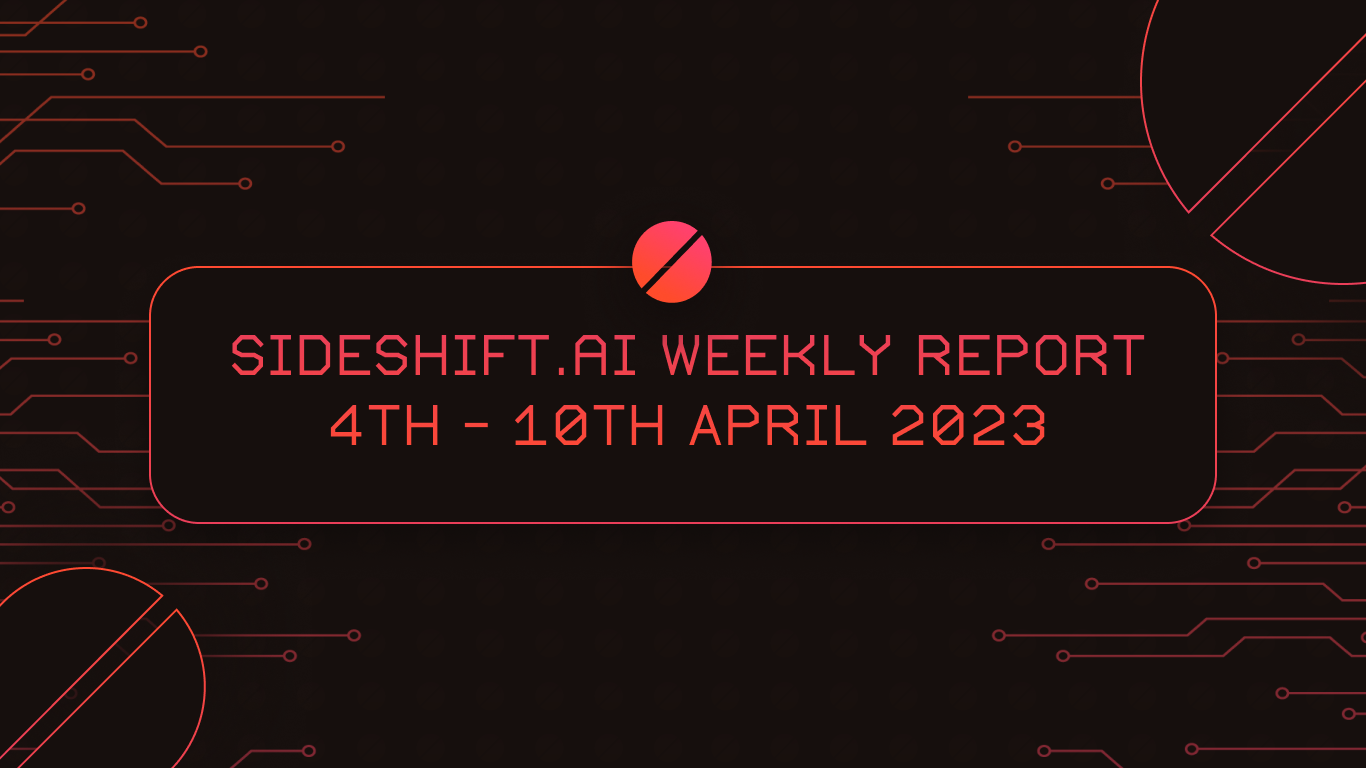 11 April, 2023
SideShift.ai Weekly Report | 4th - 10th April 2023
Welcome to the forty-ninth edition of the weekly stats report - your one-stop shop for all things SideShift.ai.

XAI Token Market Update

This week SideShift token (XAI) moved within the 7 day range of $0.133 / $0.1823. At the time of writing, XAI is currently sitting at a price of $0.1378, and has a circulating supply market cap of $16,695,184 (+0.7%) as denoted on our Dune Dashboard.

XAI stakers were rewarded with an average APY of 10.76% this week, with a daily rewards high of 36,225.92 XAI (an APY of 15.44%) being distributed directly to our staking vault on April 11th, 2023. This was following a daily volume of $1.3m. As a whole, this week XAI stakers received a total of 185,900.77 XAI, or $25,413.01 USD.

50 ETH was added to our treasury over the course of the week, bringing the current total to $4.27m. Users can follow along with live treasury updates directly on zapper.fi.

The value of 1 svXAI is now equal to 1.1779 XAI, representing a 17.79% accrual on stakers investments. A friendly reminder that the easiest way to stake XAI is to shift directly to svXAI from any coin of your choice.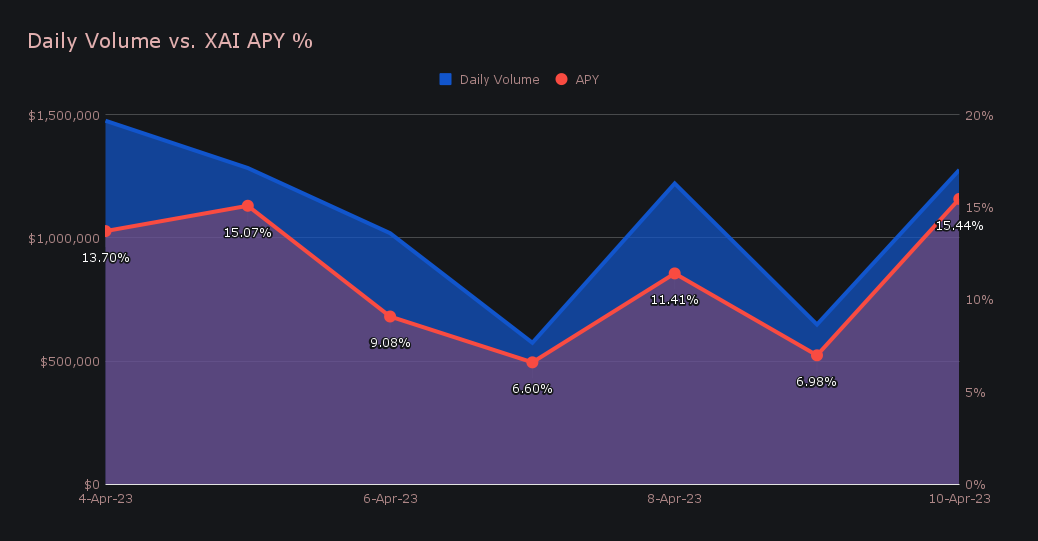 Additional XAI updates:

Total Value Staked: 92,195,158 XAI (+1.3%)
Total Value Locked: $12,474,005 (-1.1%)

General Business News:

General market sentiment suddenly looks to be quite positive, as today saw BTC reclaim the $30k mark for the first time in over 9 months. Leading up to this recent move however was a lengthy period of stagnant price action, a time during which people were less willing to part from their coins and execute trades.

SideShift ended the period with a gross volume of $7.5m (-21.6%) alongside a shift count of 6,731 (-16.5%). This came following back to back weeks of record setting shift counts that were higher than 8k. Together, these figures combined to produce daily averages of $1.07m on 962 shifts. Decreases were fairly spread out across the board, with dips in volume and count seen among most integrations as well as shifts performed directly on site.

An increase in BTC's price combined with the overall decrease in weekly shifting resulted in our weekly volume in BTC fluctuating by a greater percentage than when looking strictly at the volume in USD terms. The BTC-denominated weekly volume on SideShift shows 264.37 BTC, 22.4% lower than that of last week.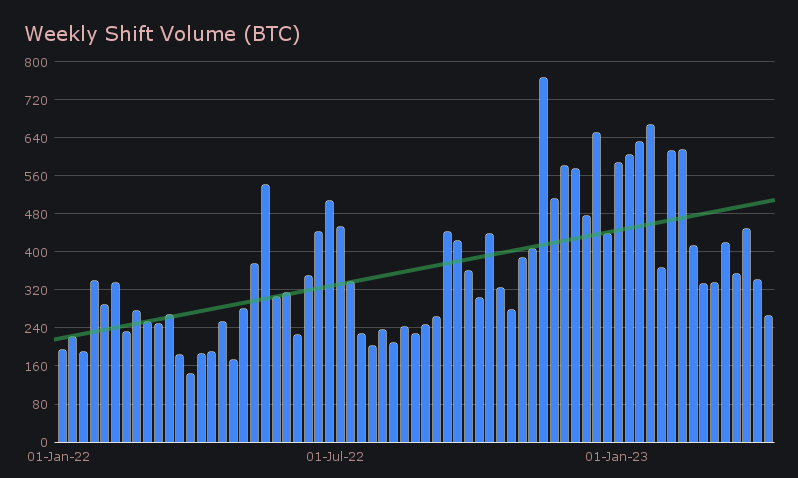 After refusing to budge from its position atop our most popular coins, BTC was finally dethroned after reigning supreme for 3 months. Due to a strong pump in demand from users, ETH clawed its way to the top, only just surpassing BTC along the way. A total weekly volume (deposits + settlements) of $2.9m, which was still a 10.5% decrease from last week's sum, was enough to squeak by BTC's total of $2.8m and claim first place. The recent spike in ETH interest continues the trend pointed out in last week's report, and it is very possibly a result of users anticipating the upcoming Shanghai upgrade. You can note ETH's rising demand in the top settle coin chart below.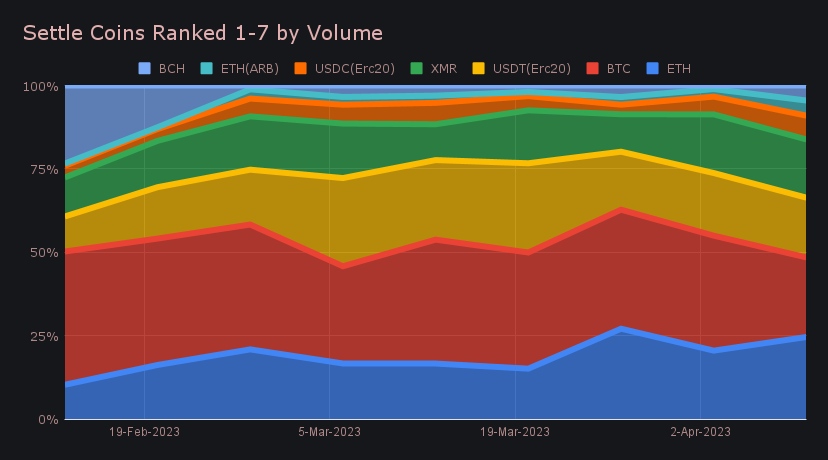 Coin pairs tell us that ETH settlements came from a variety of deposit coins, but most commonly BTC. The BTC / ETH pair generated $410k in user shift volume, which although respectable, only was enough to rank second among popular shift pairs. In first place with $610k was BTC / USDT (ERC20), which has now dominated the coin pair list for the entire year thus far. A huge reason for this is the pair's popularity within wallet integrations.

The distribution among our top 4 coins was far less concentrated this week, as total volume for all 4 coins (ETH, BTC, XMR, USDT on Ethereum) ranged between ~$2-3m. This is quite unusual as it's not uncommon to see the top coin with double the volume of second or third place. Although smaller nominal values, some of these "less popular" coins combined to account for more than typically seen - a handful of which even having triple digit gains when looking at total volume. Examples include XRP with $251k (+126%), ATOM with $124k (+509%), and XLM with $120k (+944%).

A quick look at networks uncovered another interesting observation and something different to the recently established norms. For the first time, Arbitrum climbed to the top of alternate networks, and overtook both the SOL and Tron networks. With $470k, Arbitrum was the only network which saw more volume this week as compared to last (+22.3%), while 4 out of 7 networks actually dropped by more than 50%.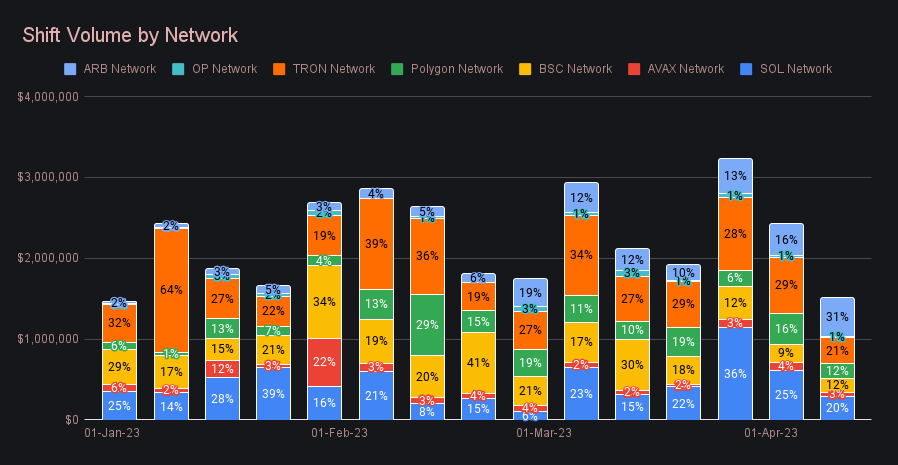 In general, these alternate chains saw far less volume and fell to a total of $1.5m, less than half of the $3m milestone week achieved just two weeks ago. With that being said, the change in shift count for these networks shows a far less dramatic change as compared to volume (-17.6% vs. -37.8%). Objectively, shift count for these networks continues to remain fairly strong, with this week's count of 3,405 not falling too far from the apex of 4,134 generated last week. 2023's shift count trend for alternate networks is firmly up, although there is some volume volatility.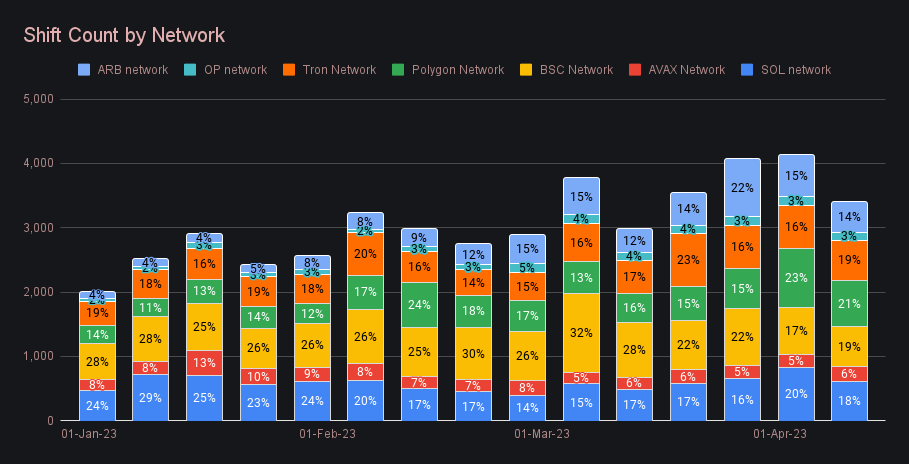 In listing news, SideShift added support for Immutable (IMX), a layer 2 scaling solution for NFTs on Ethereum. With a current market cap of $2.17b, IMX ranks 56th overall. Users can now shift to IMX from any coin of their choice.

This week we focused on listing new coins, improving the users' overall shift experience, as well as continued with our efforts to upgrade our LN reliability. We have temporarily paused LN settlements while our engineers are working on the improvement.

Affiliate News

Our top 10 affiliates had a sharp decline this week, with their combined volume falling by 34.9% to total $1.4m. Shift count declined by a lesser extent, decreasing 15.3% for a net 1,833 shifts. Our top affiliate was no exception to the overarching decreasing trend and saw its volume proportion fall slightly, as it represented 8.9% of the weekly total. However, shift count for the top affiliate went against the grain, and rose by 2.1% to account for 16.7% of the weekly count. All together, our top affiliates represented 18.1% of volume generated this week.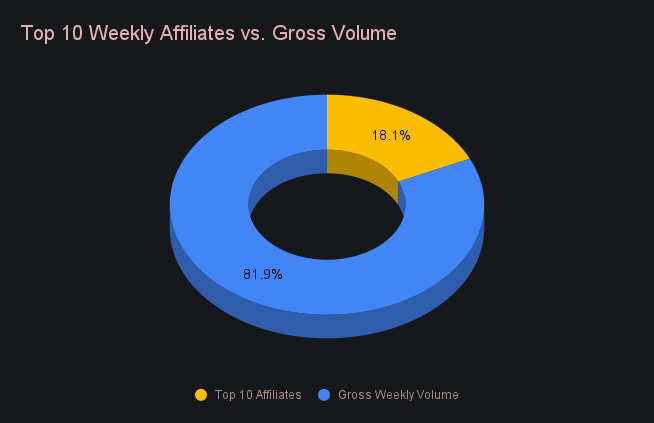 That's all for now. Thanks for reading, happy shifting and we'll see you next time.