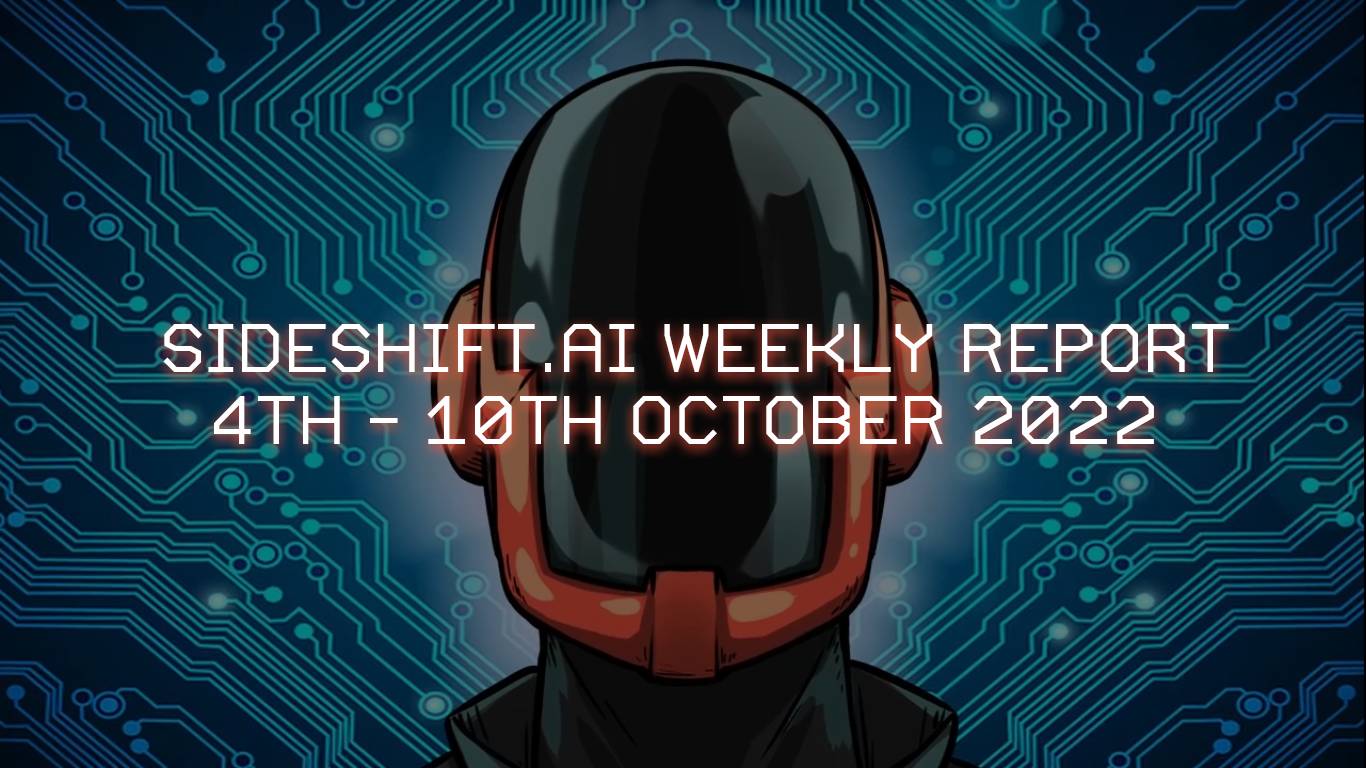 11 October, 2022
SideShift.ai Weekly Report | 4th - 10th October 2022
Welcome to the twenty-third edition of the weekly stats report - your one-stop shop for all things SideShift.ai.

XAI Token Market Update

In the first full week of October SideShift Token (XAI) remained steady, moving between the range of $0.138297 / $0.149531. At the time of writing, the price of XAI is sitting at $0.141406. A current market cap of $13,245,713 marks a slight 0.97% increase from last week, and ranks XAI in position #778 overall.

SideShift had a relatively strong week, with very solid performance throughout the weekend. XAI stakers were rewarded as a result, and received an average APY of 32.96% (+5.8% higher than our all time average). A weekly rewards high of 58,501.11 XAI was deposited to our staking vault on October 11th, which equated to an APY of 75.42%. This was following a daily volume of $1.90m.

Don't forget that you can follow along with staking updates, such as svXAI price and staking wallet distribution here at our Dune Dashboard.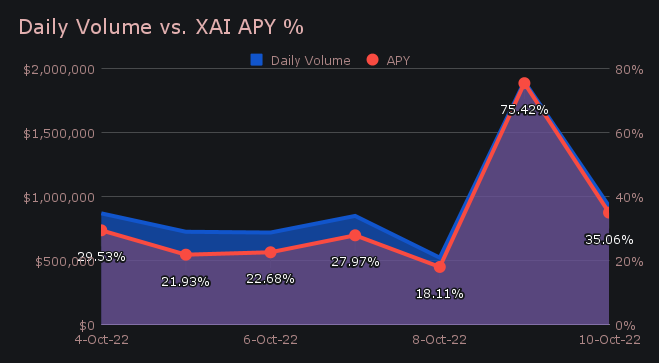 Additional XAI updates:

Total Value Staked: 38,095,205 XAI
Total Value Locked: $5,567,614

General Business News:

Following a slower period in the previous week, SideShift rebounded to record a +38.3% volume gain. We finished the week with a net volume of $6.52m and a shift count of 7,001. This resulted in daily averages of $931k on 1,000 shifts.

Not only was this the highest weekly volume observed since the beginning of July, but it also marked the highest weekly count seen since mid May (SideShift's record setting week). This was very promising to see in spite of the general lack of excitement in the overall market. In the chart below you can see the weekly volume of SideShift denoted in BTC throughout 2022 thus far. This is a good metric to observe growth compared to the market overall, and although there may be fluctuations when measuring USD, the trend in BTC is firmly tilted upwards.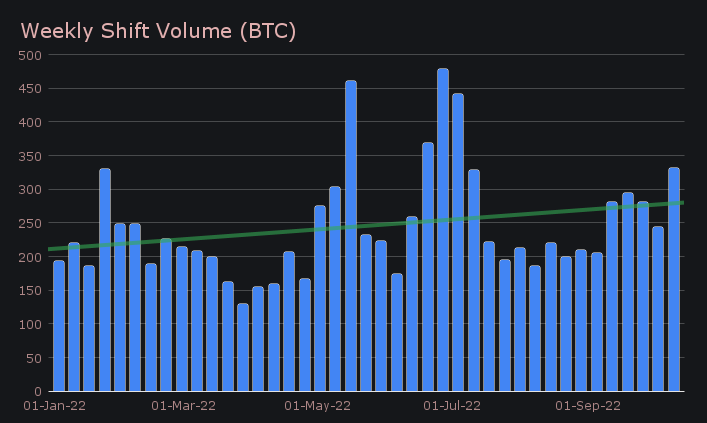 This week our top 3 deposit coins all saw volumes greater than $1m, and as usual BTC led the pack. BTC retained its position as our most deposited coin, with $2.01m. This was followed by ETH, which grew by 99% to total $1.23m. XMR was not far behind with $1.20m.

An unlikely contender finished fourth on this list, and that coin was Cosmos (ATOM). It achieved fourth place with a net deposit volume of $310k, a figure which is a resounding ~70x greater than typically seen in recent months. This was mainly due to a single user who shifted large amounts of ATOM to ETH over the weekend. Still, it should be noted how much lower this figure is when compared to our top 3 coins, thereby indicating their significance.

A similar ranking was observed on the settlement side. BTC finished first with $2.04m, a value which basically mirrored the deposits. ETH placed second, and here again saw a massive boom in volume with ETH settlements growing by +147% to net $1.54m. You can see the spike that ETH underwent in the chart below. USDT on Ethereum finished in third with a settlement total of $1.07m. Our most popular shift pair of BTC/USDT (ERC-20) played a big role in this, as this sole pair accounted for $845k in weekly volume. 42% of the deposited BTC volume settled to USDT (ERC-20) this week, and it has now finished as our most popular pair for the 6th straight week.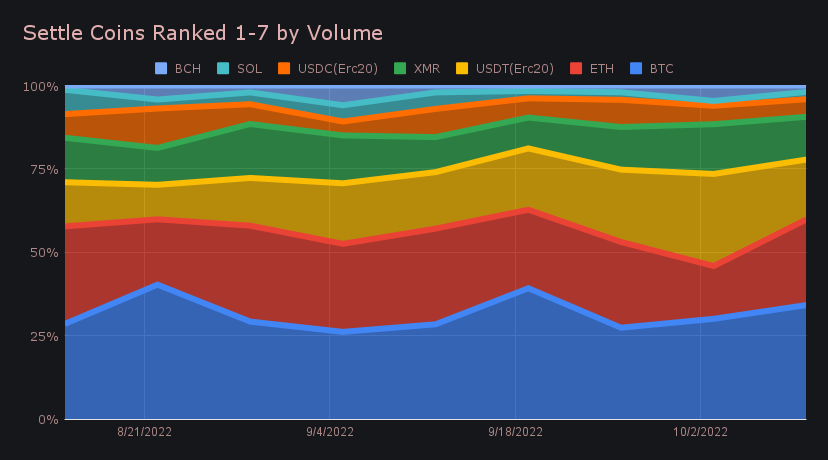 Our top 3 coins,BTC, ETH and XMR were mainly responsible for the increase in overall volume, but it is important to note that 7 of our top 8 coins saw growth. Additionally, several others also saw increases in both volume and shift count. Aside from the aforementioned ATOM, notable coins which had gains include LTC ($277k, +114%) and XRP ($122k, +464%). Both of these bursts came from the deposits side, and were mostly settled to either BTC or ETH.

Stablecoins on the other hand were among the few coins which, on average saw decreases in shift action. As a whole stablecoins represented ~26% of settle volume, a 5.6% dip from last week. This ended the rising trend observed over the course of the past 2 months, whereby stablecoin settlements crept higher and higher.

In listing news, SideShift added support for 1INCH Token (1inch) on the Ethereum network. It is now live and ready to be shifted.
Overall it was a good week for SideShift with few road bumps, and solid volume / count that carried throughout the period. The biggest issue encountered during the week was an error which appeared for some users - "Unable to assign deposit address". This was the result of likely unintentional spam, whereby someone was creating tens of thousands of orders without making a deposit. It was quickly attended to, and resolved. We also encountered some minor instability with ZEC and DOGE deposits which resulted in a couple of undetected deposits - it was fixed within the hour and shift methods resumed as normal.

Integration News

This week integration volume tapered off slightly, while shift count continued to roar on.

As a whole, integrations represented 27.9% (-13.1% from last week) of the weekly volume, and 42.5% (-0.5%) of count. Keep in mind that these are percentages of the total, so despite a decrease in proportion from last week, the nominal volume change was only -3.2% (-$59k). This tells us that integration volume has actually remained quite consistent with past weeks, regardless of overall volume.

That's all for now. Thanks for reading, happy shifting and we'll see you next time.