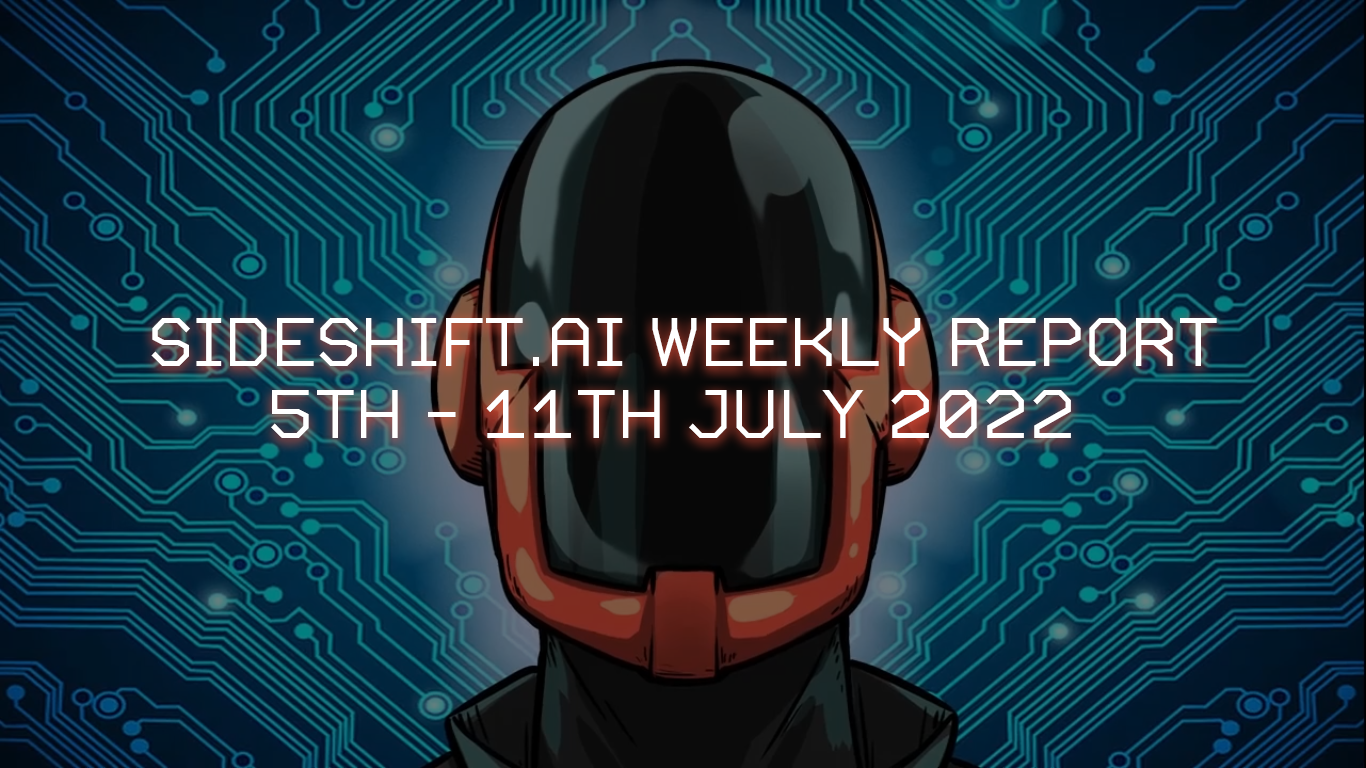 12 July, 2022
SideShift.ai Weekly Report | 5th - 11th July 2022
Welcome to the tenth edition of the weekly stats report - your one-stop shop for all things SideShift.ai.

XAI Token Market Update
We are very happy to report that the migration of XAI to the on-chain staking vault was successful. The staking vault is located at 0x3808708e761b988d23ae011ed0e12674fb66bd62 and svXAI, the token which represents shares in the vault, is live. More information on svXAI and the staking upgrade can be found in our XAI on-chain staking FAQ.

Our next priority is completing the staking page on the SideShift.ai site to allow users to claim svXAI, see their balances, stake and unstake. This page should be completed very shortly, but in the meantime we have added a Telegram bot command - /vaultclaim - for those who wish to claim their svXAI immediately.

This week SideShift Token (XAI) ranged between $0.133234 / $0.189691. Currently, the price of XAI is at the upper range of the band, sitting at $0.186929. At the time of writing the market cap of XAI is $8,858,752, placing it in position #870.

SideShift's APY has continued to be very strong, averaging 45.71% for the week. On July 8th, a weekly high rewards sum of 67,514.04 XAI was distributed to stakers which amounted to 111.89%. This APY payout followed a volume day of $1.89m, and is now the 4th week in a row that SideShift has had a daily staking reward >100%.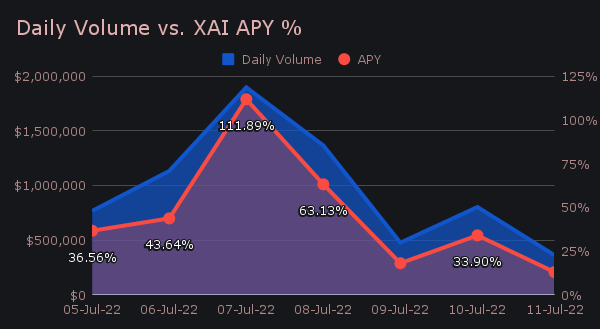 Additional XAI updates:
Total Value Staked: 33,063,484 XAI
Total Value Locked: $5,878,207

General Business News:
Throughout the week SideShift had a daily volume average of $972k with 747 shifts. As the general market continues its crab-walk, lower overall volatility has resulted in less overall shifts. Still, we experienced a few bright volume days which helped to reward our stakers. A weekly volume total of $6.80m is mostly on par with weekly averages experienced throughout the past 2 months, but this week shift count has once again slowed, totaling 5,232 (-5.1% from last week).

After consecutive weeks of absolutely dominating the top of the deposit / settle volume lists, respective BTC and BCH numbers have now come back down to familiar territory. Still, BTC ranked first in deposits with BCH first in settlements, however the disparity between our top coins and others is now not as large. In recent weeks BTC deposits were as much as 12x higher than second place, with BCH settlements as much as 6x higher. This week BTC deposits netted $3.23m and were 3.94x higher than the runner up (LTC with $820k). Conversely, BCH settlements totalled $2.01m, while USDT (ERC-20) was not far behind with $1.59m.

The BTC/BCH pair once again prevailed among our most popular coin pairs. It netted $1.78m (26.20%) in volume this week, with 55% of the deposited BTC volume settling to BCH but only 18% of shift count. What this means is that the average shift size remains very high - typically this volume comes in batches of ~250k at a time periodically throughout the week.

BTC/BCH has not been dethroned now for 11 straight weeks, although this week saw a few pairs take a shot at it. BTC/USDT (ERC-20) was our second most popular pair with $781k while LTC/USDT (ERC-20) placed third with $596k. The reemergence of LTC/USDT (ERC-20) started the week off with a bang solely in first place, only to be overtaken by BTC/BCH later in the week. It was interesting to observe LTC/USDT (ERC-20) make a comeback, as this was by far the most shifted pair between late 2021 and early 2022. A close watch will be kept to see if this continues.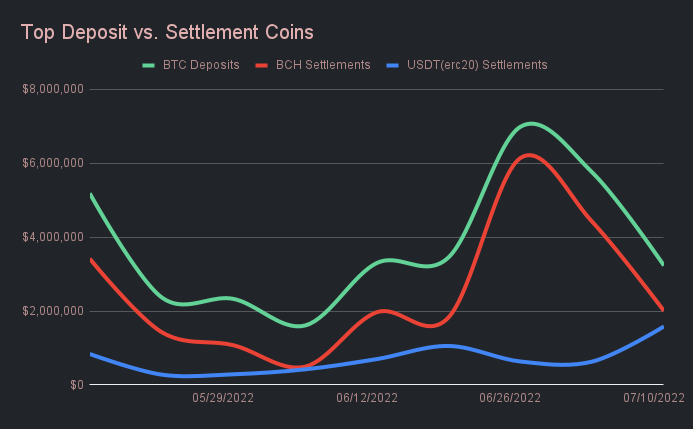 In the last report it was noted that the intense focus on BTC and BCH was beginning to waver - this week saw that trend continue and our shift volume has become more dispersed. A majority of "less popular" coins experienced more overall volume (deposits and settlements), most notably LTC ($890k), BNB ($362k), and DAI ($137k). These coins saw respective increases of 822%, 54% and 83%.

Coinciding with this is the slight decrease in volume concentration for our top 3 settle coins. This week's top 3 settlement coins of BCH, USDT (ERC-20) and BTC represented 66.6% of overall settle volume, a ~7% drop from last week. Although this concentration is diluting, it is likely that the top coins will continue to account for a vast majority of shift volume until some positive market volatility comes along.

SideShift's main priority continues to be the shift to on-chain staking - we are making very good progress and will continue to update you along the way. Throughout the week no major errors were experienced and shifts processed smoothly as normal. Zcash remains temporarily disabled as maintenance is ongoing. We are actively working on some new listings - user feedback is always appreciated.

Integration News


In affiliate news, volume across all integrations slowed down this week. Trezor remained in the top spot generating a weekly volume of $540k (7.9%), while Bitcoin.com wallet placed second with $486k (7.1%). Bitcoin.com's shift count remains very strong, accounting for 16% of the weekly total. This is ~2% higher than last week and once again ranks second only to shifts performed directly on SideShift.ai. Both Trezor and Edge wallet accounted for 4% of the weekly count.

Edge Wallet placed third with $29k (0.4%), but just barely, as affiliate volume has now declined for 5 straight weeks. Very close behind was zat.gg, netting $28k (0.4%) for the week. Overall, affiliates represented ~16% of weekly volume and ~27% of shift count.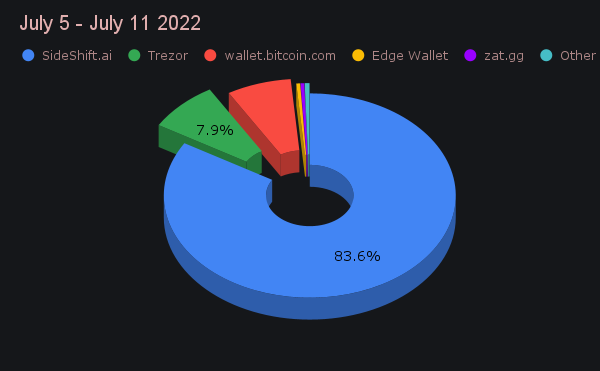 That's all for now. Thanks for reading, happy shifting and we'll see you next time.