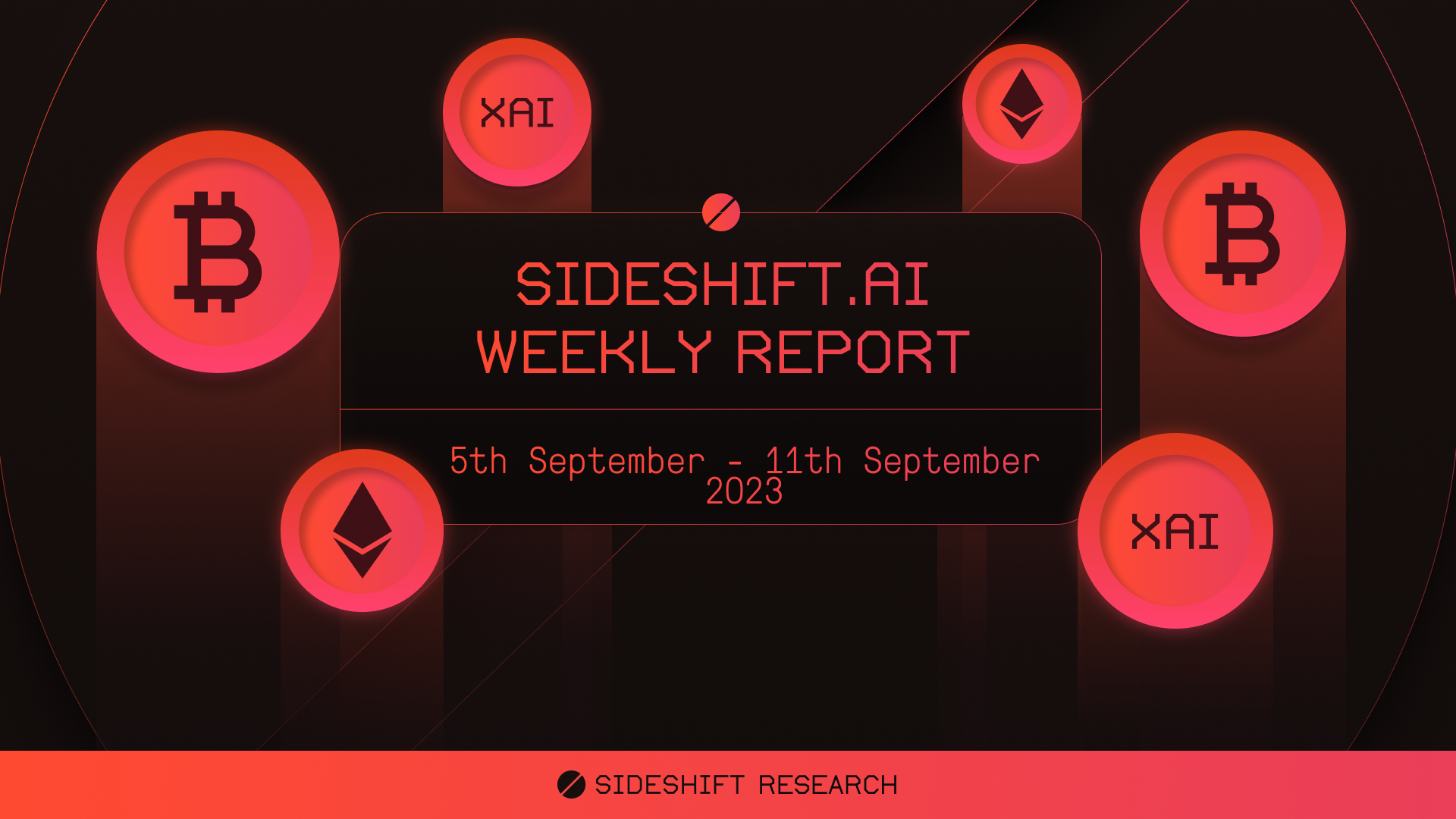 13 September, 2023
SideShift.ai Weekly Report | 5th September - 11th September 2023
Welcome to the seventy-first edition of the weekly stats report - your one-stop shop for all things SideShift.ai.

This week SideShift token (XAI) moved within the 7 day range of $0.0836 / $0.0894. At the time of writing it is sitting near the middle of that range at a price of $0.0859, and has a current market cap of $10,739,806 (-9.0%).

XAI stakers were rewarded with an average APY of 8.37% this week with a daily rewards high of 30,829.01 XAI or $2,635 (an APY of 10.67%) being distributed to our staking vault on September 8th, 2023. This was following a daily volume of $1.3m. This week XAI stakers received a total of 176,627.31 XAI or 15,013.32 USD in staking rewards.

1 svXAI is now equal to 1.2339 XAI, representing a 23.39% accrual on stakers investments. A friendly reminder that the easiest way to participate in XAI staking and earn daily rewards is to shift directly to svXAI, from any coin of your choice.

Our treasury is currently sitting at a value of $4.69m, and users are encouraged to follow along directly with live treasury updates.

Additional XAI updates:

Total Value Staked: 111,196,219 XAI (+0.2%)
Total Value Locked: $9,641,824 (-6.9%)

General Business News:

This week saw the market continue to drudge along sideways, with BTC looking like it is clinging desperately onto important support levels. Generally, negative sentiment seems to now be floating around, and we saw BTC incur a quick dip down to the $25k mark as the week came to an end.

Another relatively quiet period saw SideShift round off the week with figures on par with those of the previous. Net volume was down just 2.6%, finishing with a weekly sum of $6.0m. Shift count was impacted moreso, which was mainly due to a smaller number of shifts coming from integrations. Gross count ended down 12.4% for a total 5,088 shifts on the week. Together these figures combined to produce daily averages of $856k on 727 shifts. When denoted in BTC, our weekly volume amounted to 232.04 BTC. This was a mere -0.3% change from last week's sum, thereby speaking to the relative flatness of BTC's price action, as well as the consistent shift behavior we have seen over the past 14 days.

Unsurprisingly, BTC was the absolute centerpiece of shifting this week. When looking at total volume (deposits + settlements), it netted a final sum of $3.8m, an impressive 22.9% jump from last week. BTC's increase on SideShift mainly stemmed from an increase in user deposits, which falls in line with the overarching attitude felt by many at the moment - fear and uncertainty. For some perspective, user BTC deposits grew 25.4% for $1.9m, which was more than double that of the runner up (ETH with $752k, -41.7%). Although still lower than levels seen throughout the summer months, the general rise in total BTC volume is made clear in the chart below. Conversely, it is also evident the opposing behavior of other top coins, as they appear to be sloping downwards and shrinking in weekly total volume.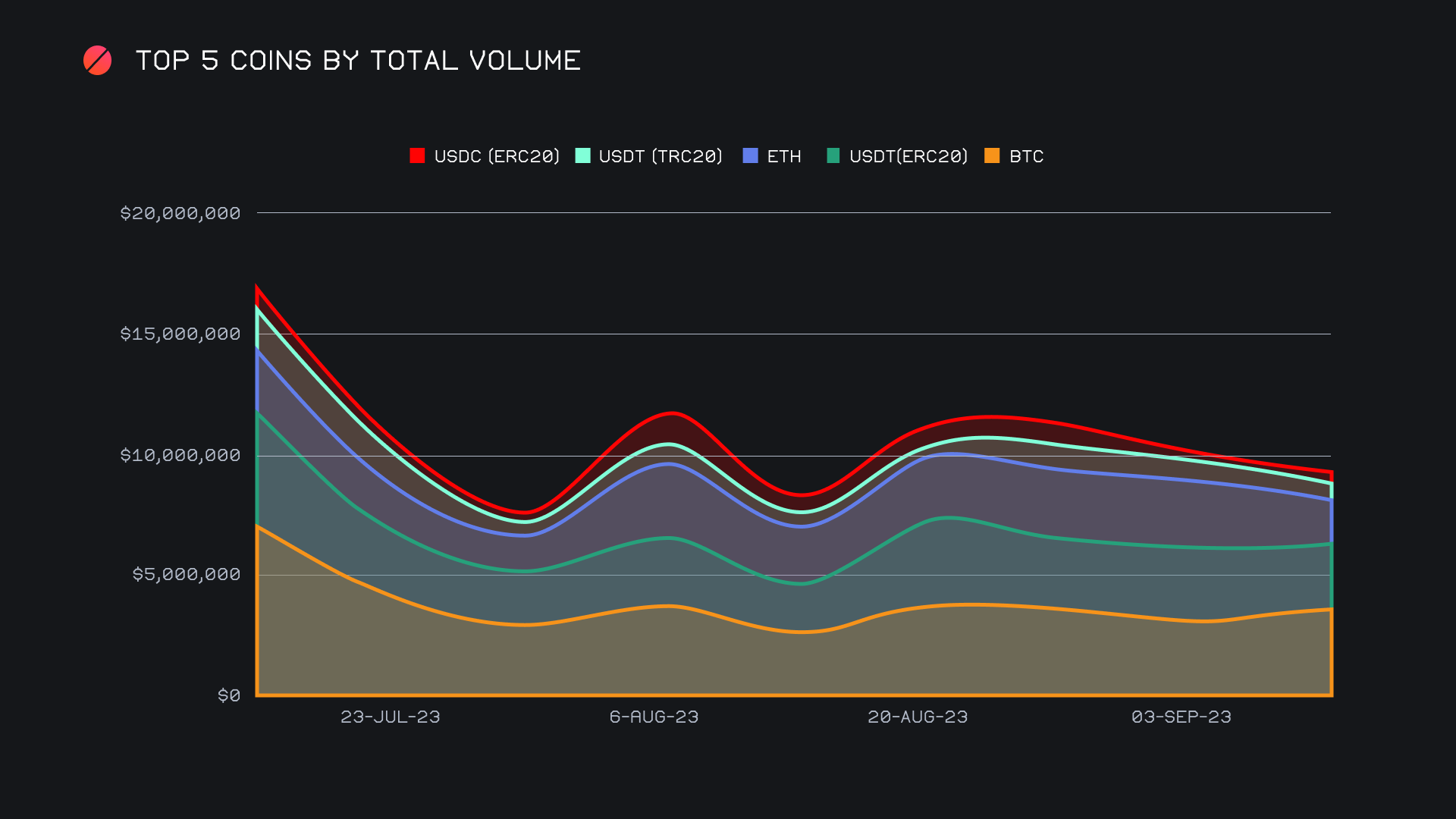 An analysis of what these BTC were being shifted to reveals more of the same. With ~$1.1m, the BTC/USDT (ERC-20) pair claimed first, something that has not changed since the beginning of June 2023. A majority 54% of user deposited BTC was shifted to USDT (ERC-20). However, upon digging deeper we did notice something which hasn't been observed since the beginning of 2023 - an increased amount of BTC/BCH shifting. Although substantially less than our top pair, the BTC/BCH pair still generated $366k, with almost all of this volume coming in just a handful of days. This also resulted in BCH's total volume climbing 192% to place 6th overall, representing the largest gain by any top coin this week. It will be interesting to see if this is something that continues.

With our top pair in mind, it should be noted that our leading stablecoin, USDT (ERC-20) saw a 15.8% decline in total volume, with settlements decreasing an even heftier 19.4% for a net $1.3m. However, this still remained our most demanded settle coin from users, outdoing that of BTC ($1.1m, -5.4%), ETH ($647k, -3.2%), and BCH ($383k, +494%). The highest daily stablecoin outflow occurred September 11th, 2023, coinciding with the red candle causing BTC to briefly tag $25k. Nevertheless and as outlined in the chart below, stablecoin settlements as a whole made a 4 week low, which is likely just a result of the slower volume we've experienced throughout these weeks.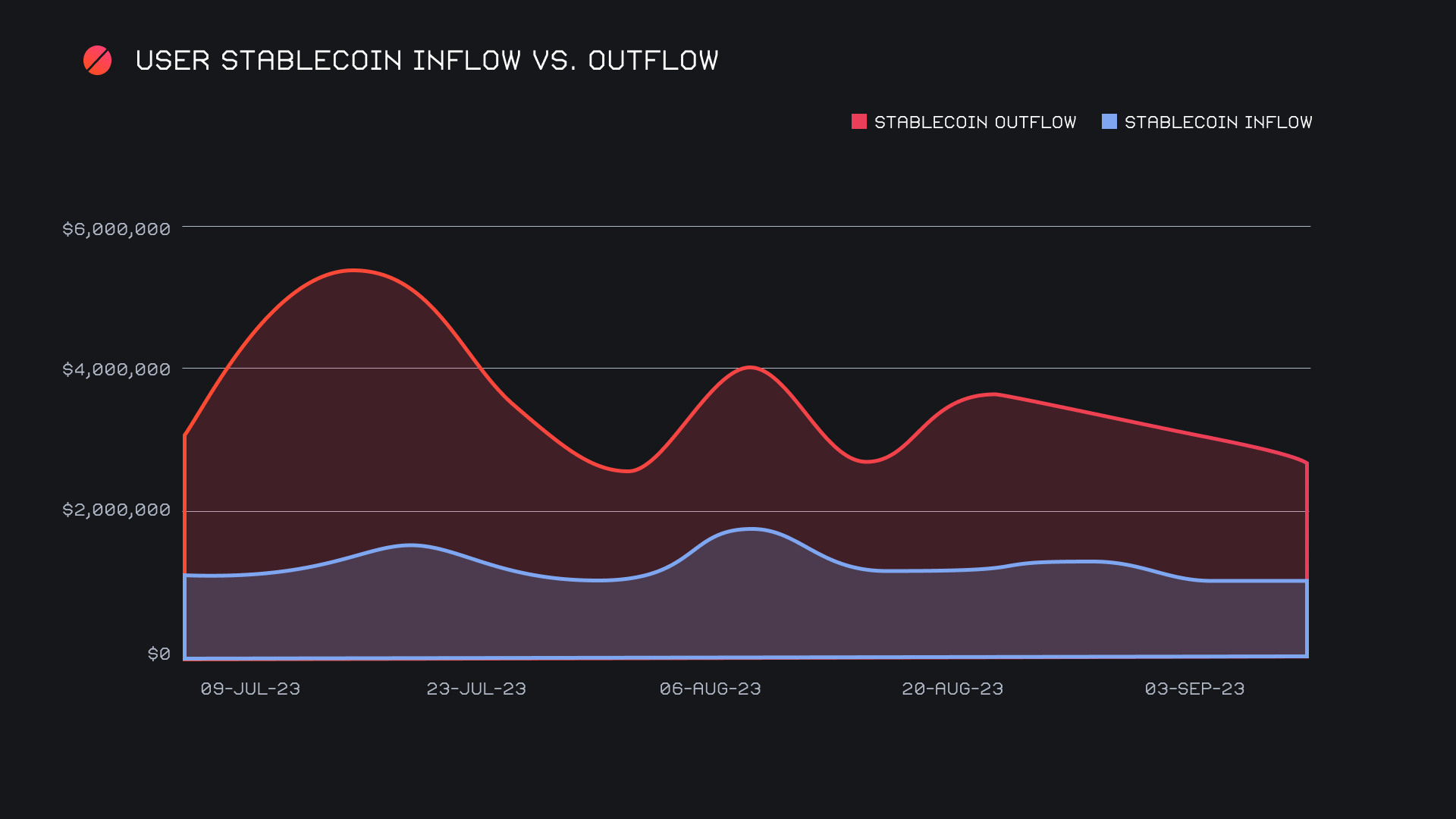 When looking at alternate networks to ETH, the story mostly remains unchanged. Cumulatively these networks summed to $1.8m (-3.8%), hovering below the $2m mark for the second week in a row. The Tron network refuses to forfeit its top spot, due to the continued popularity of USDT (TRC-20). It ended the week with a net $862k (-6.4%), still accounting for a dominant chunk of this alternate network volume. Retaining its position of second place, the Binance Smart Chain (BSC) network rose 48.4% for a gross $428k. Increased shifting of the native BNB coin was the driving force behind this rise, with volume nearly doubling from last week. The SOL network also enjoyed a boost, increasing 26.5% for a total $258k. Meanwhile, the ARB network really struggled, plummeting 56.8% to finish with a mere $68k, a drastic change from the near $1.8m sum it totalled just 3 months ago.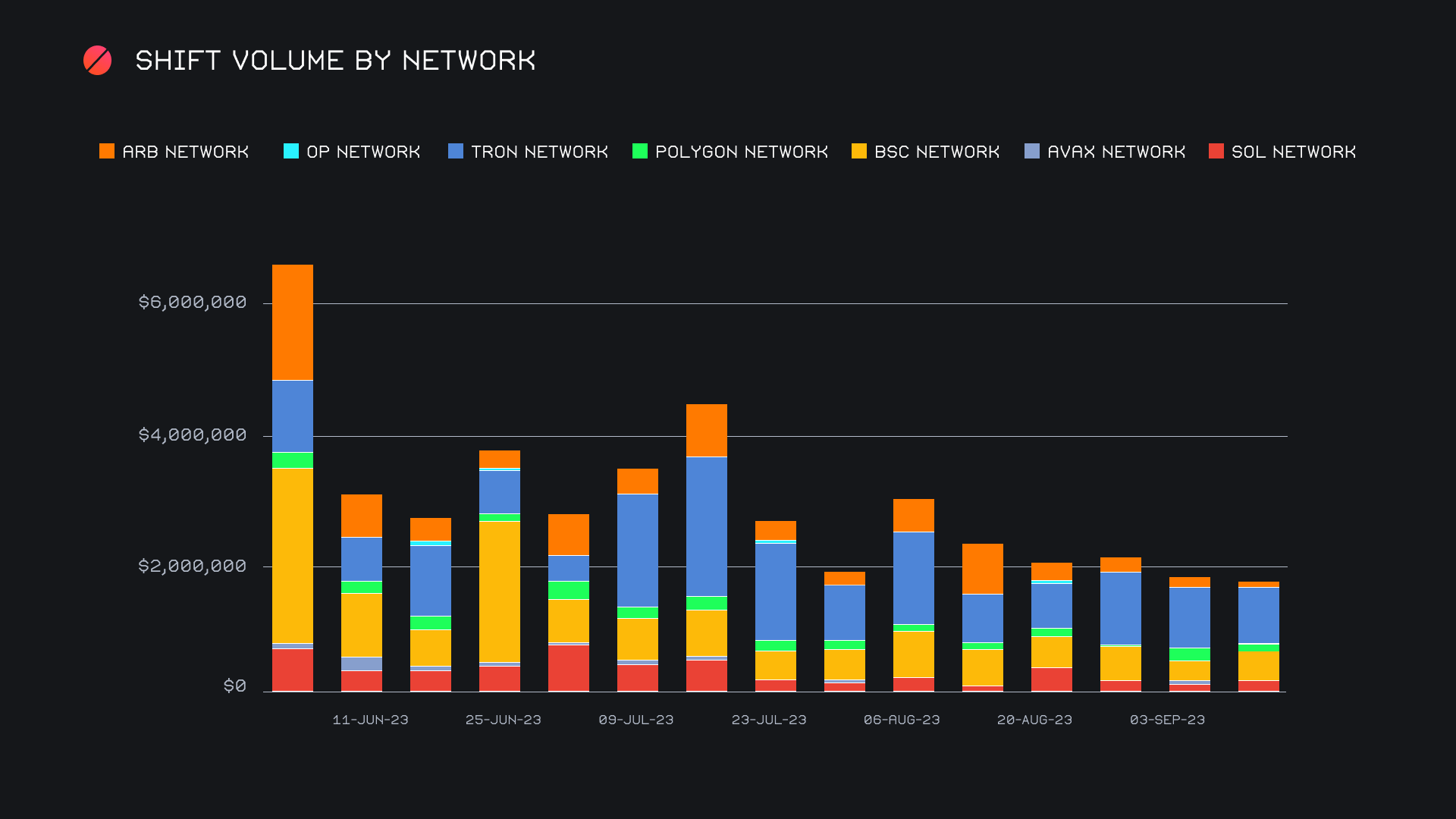 Affiliate News

Proportionately, our affiliates had an outstanding week. A 12.7% increase from last week resulted in a combined $2.6m, which represented 43.1% of all shift volume. When compared to strictly user volume, this grows to represent a whopping ~60%. However it wasn't solely affiliate volume which shined bright, but also shift count, which seized 45.4% of the weekly total despite falling 22.2% for a net 2,310 shifts.

Our top affiliate in particular had one of its best performances in recent weeks, achieving $1.5m on 1,267 shifts. It stands alone in this regard, as second place ended with a much lower $427k on 102 shifts.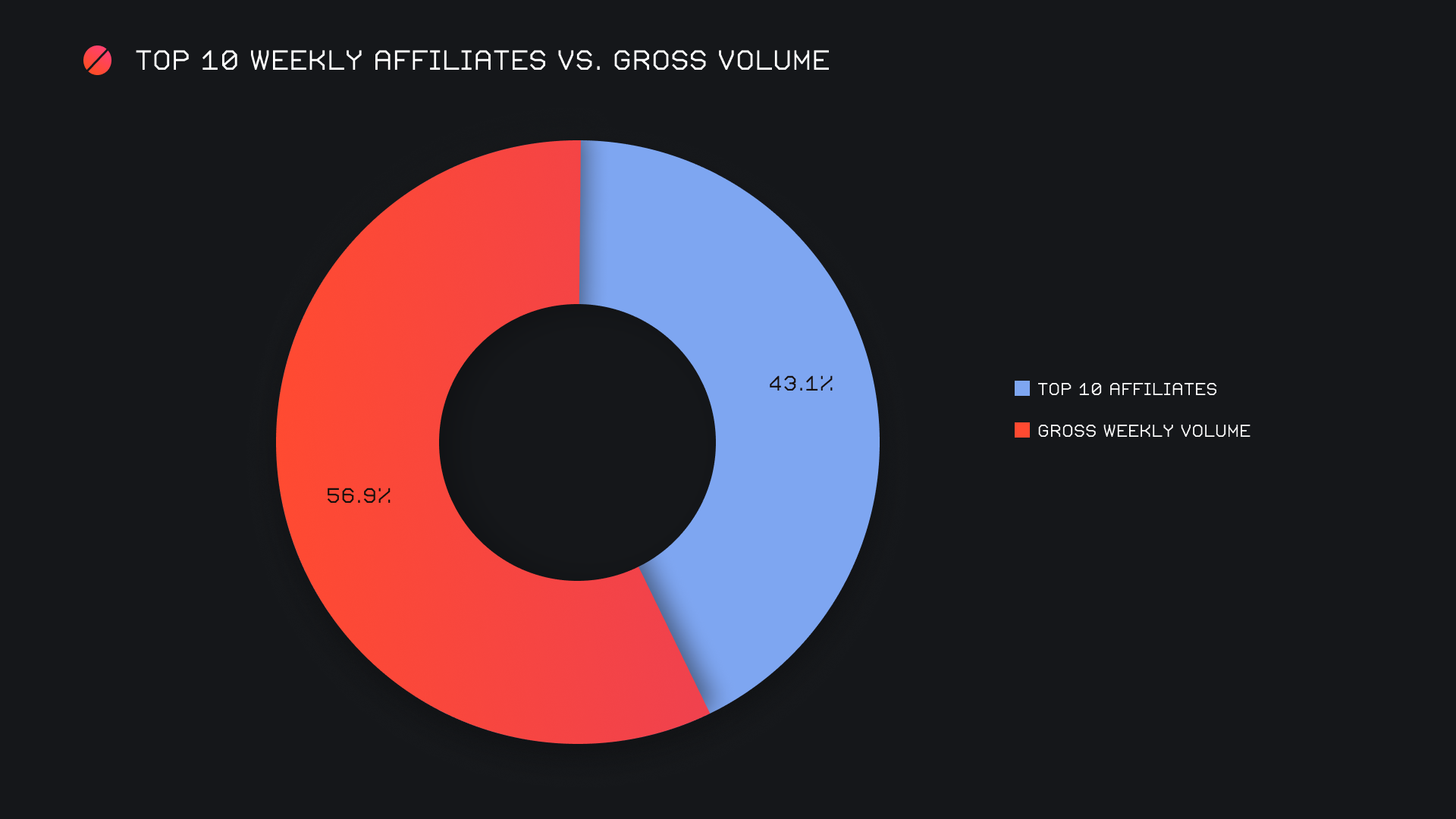 That's all for now. Thanks for reading, happy shifting and we'll see you next time.