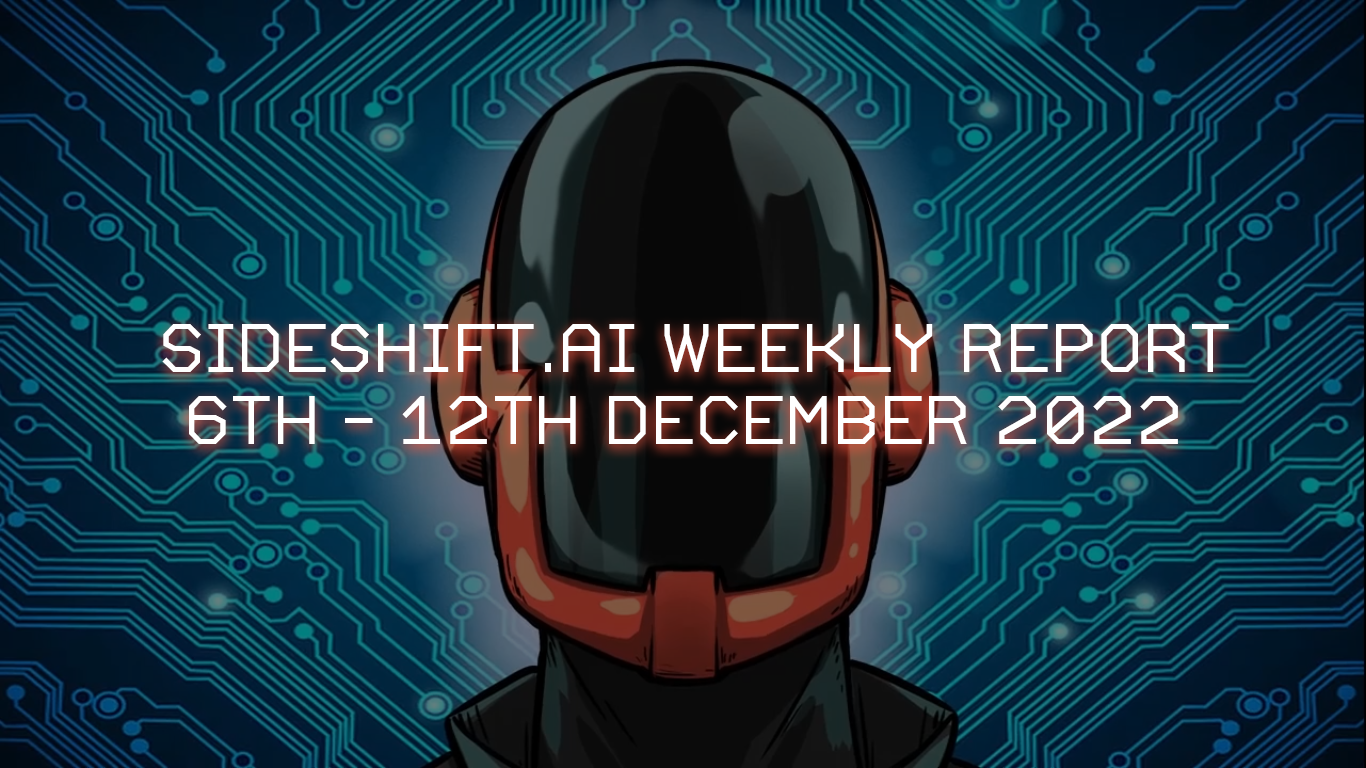 13 December, 2022
SideShift.ai Weekly Report | 6th - 12th December 2022
Welcome to the thirty-second edition of the weekly stats report - your one-stop shop for all things SideShift.ai.

XAI Token Market Update

This week SideShift Token (XAI) remained extremely stable, moving within the narrow 7-day range of $0.1132 / $0.1192. At the time of writing the price of XAI is sitting at $0.1160, and has a current circulating market cap of $11,226,989. You can find this and other XAI related stats updated in real time on our Dune Dashboard. When compared to the previous week, the current market cap marks an increase of 3.79%.

XAI stakers were rewarded with a healthy average APY of 22.72% throughout the period. On December 7th, 2022, a daily rewards high of 40,833.29 XAI (32.91%) was deposited to our staking vault, following a daily volume of $1.17m.

The price of 1 svXAI is now equal to 1.1149 XAI, representing an accrual of 11.49% on stakers' investments. Be sure to learn more about XAI staking at our FAQ, and stake XAI directly from any coin of your choice here.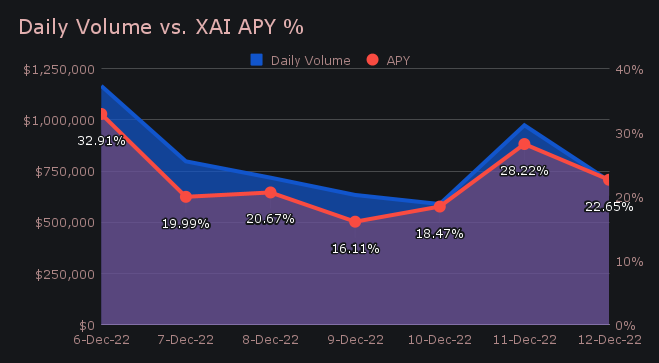 Additional XAI updates:

Total Value Staked: 56,764,926 XAI
Total Value Locked: $6,565,656

General Business News:

It appears that the general market has settled into its newest comfort zone, with little to no price action unfolding in the past week. For SideShift, this ongoing sideways action has resulted in less overall shifts taking place. We concluded the week with a net volume of $5.58m (-22.5% from last week) alongside a shift count of 5,254 (-17.5%). This produced daily averages of $797k on 751 shifts. The equivalent BTC denomination for weekly volume amounted to 326.38 BTC, 23.1% less than recorded last week.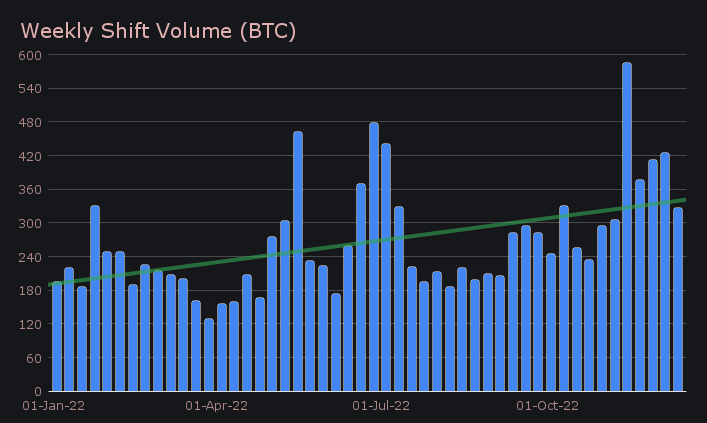 It was a slower period, with 7 out of 10 of the top coins showing less overall volume (deposits + settlements) when compared to the previous week. The two standout exceptions were BTC and BCH, which finished as our top 2 shifted coins for the week, and showed respective volume increases of 2.6% and 228.3% when looking at the same metric.

The week heavily revolved around BTC, as it stood head and shoulders above other deposit coins when measuring volume. BTC deposits grew 22.2% to finish with a net of $2.23m, marking the highest deposit volume since the beginning of July. BTC was over twice as much as the next highest deposited coin, which was XMR with $873k. XMR deposits fell 47.5% this week, following a handful of weeks which saw deposits yield greater than $1m. In third was ETH, which also saw a sizable decrease in deposit volume, as it dropped 31.8% to finish with $846k.

On the settlement side BTC reclaimed its title as the most demanded coin, with a total of $1.64m (-15.7%). BCH roared back to life to seize second place, reviving a trend which also hasn't occurred since July 2022. It finished the period with $1.50m, a whopping 342.6% increase in settlement volume. For reference, this figure has typically sat around the $200k per week mark since the summer months. The spike is made evident in the chart below. In third place was USDT (ERC-20), which saw a significant decrease in demand, ending the period with $860k (-57.9%).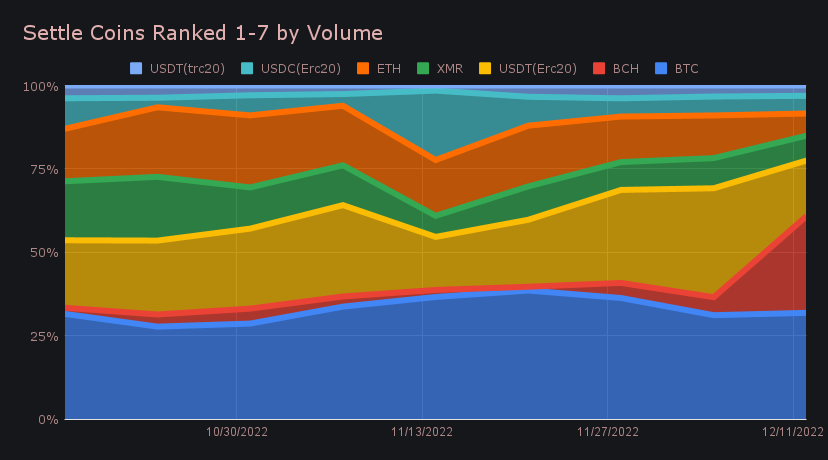 Directly related to this is the strong comeback of the BTC/BCH pair, which is mainly responsible for these large deposit / settle volumes. It finished the week as the most popular pair by far, ending with a net volume of $1.30m. It accounted for 23.4% of the weekly volume and just 3.3% of the weekly count, thereby indicating the size of the average shift for this pair. 58% of the deposited BTC volume settled to BCH this week.

When looking at stablecoins as a whole, there was less shift action and an overall decrease in demand. The previous report noted a record high portion of volume settling to stablecoins, as it approached the 37.5% mark. This week's proportion measured only 22.5%, setting the lowest level observed in the past 13 weeks. Perhaps the selling pressure is exhausted and now everybody is simply sitting on the sidelines. You can see the lack of stablecoin shifting in the chart below, as the general trend in recent days is substantially lower than over the past month.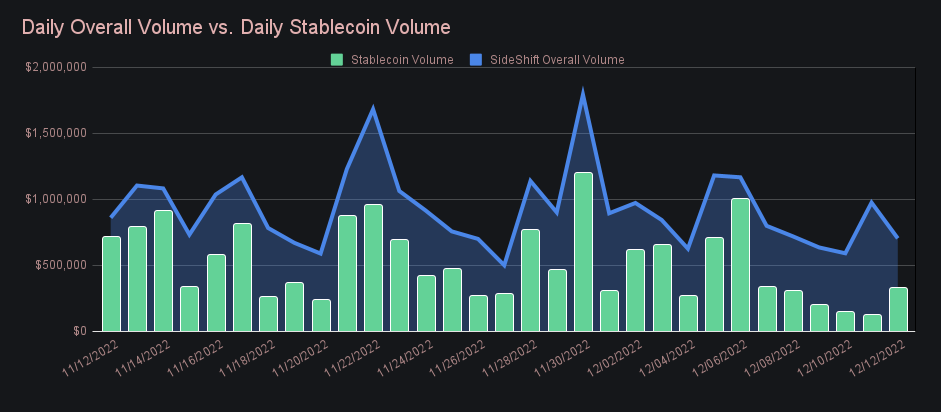 Shifting on networks other than ETH also decreased this week, dipping below a cumulative $1m for the first time in 2 months. These networks (Tron, Solana, Binance Smart Chain, Avalanche, and Polygon) combined for $852k in shift volume, with the BSC network once again accounting for the highest proportion. Among this volume on BSC, the majority of it came from users shifting out of BUSD to stablecoins on Ethereum (USDC and USDT), perhaps related to the ongoing Binance FUD. Approximately $254k of BUSD was shifted to other coins, with 85% of that being the aforementioned stablecoins on Ethereum.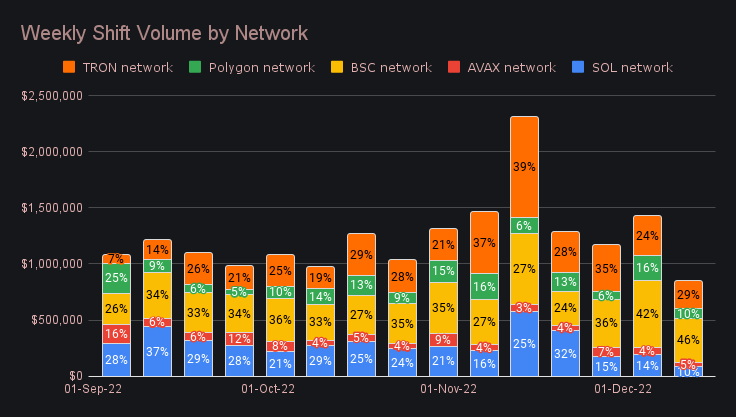 As the year is creeping to an end, SideShift's focus has been on finalizing year end projects and tying off any loose ends. We continue to prioritize growth and improving the overall usability of the site. Ultimately, the week was solid with just a few minor interruptions. We disabled SLP and SRM as a result of low liquidity - these tokens remain disabled as a shift option for the time being. Next, we had some instability with the BSC and SOL networks due to our node providers, which may have resulted in a slight delay for a handful of users shifts. Both networks are now stable, and shifting has resumed as normal.
Integration News

Integrations as a whole slowed significantly in the wake of a record settling week. They combined for $1.44m in volume, which represented 25.8% of the weekly total. As compared to last week's proportion, this is a decrease of 22.6%. In fact, it is the lowest proportion observed since the end of June 2022. Decreases in shift activity were steady across the board, as it is likely most users are simply HODL'ing for the time being. Shift count among all integrations however did remain quite strong, as it summed to 36.4% for the week - a level fairly consistent with those noted over the course of the past month.

That's all for now. Thanks for reading, happy shifting and we'll see you next time.