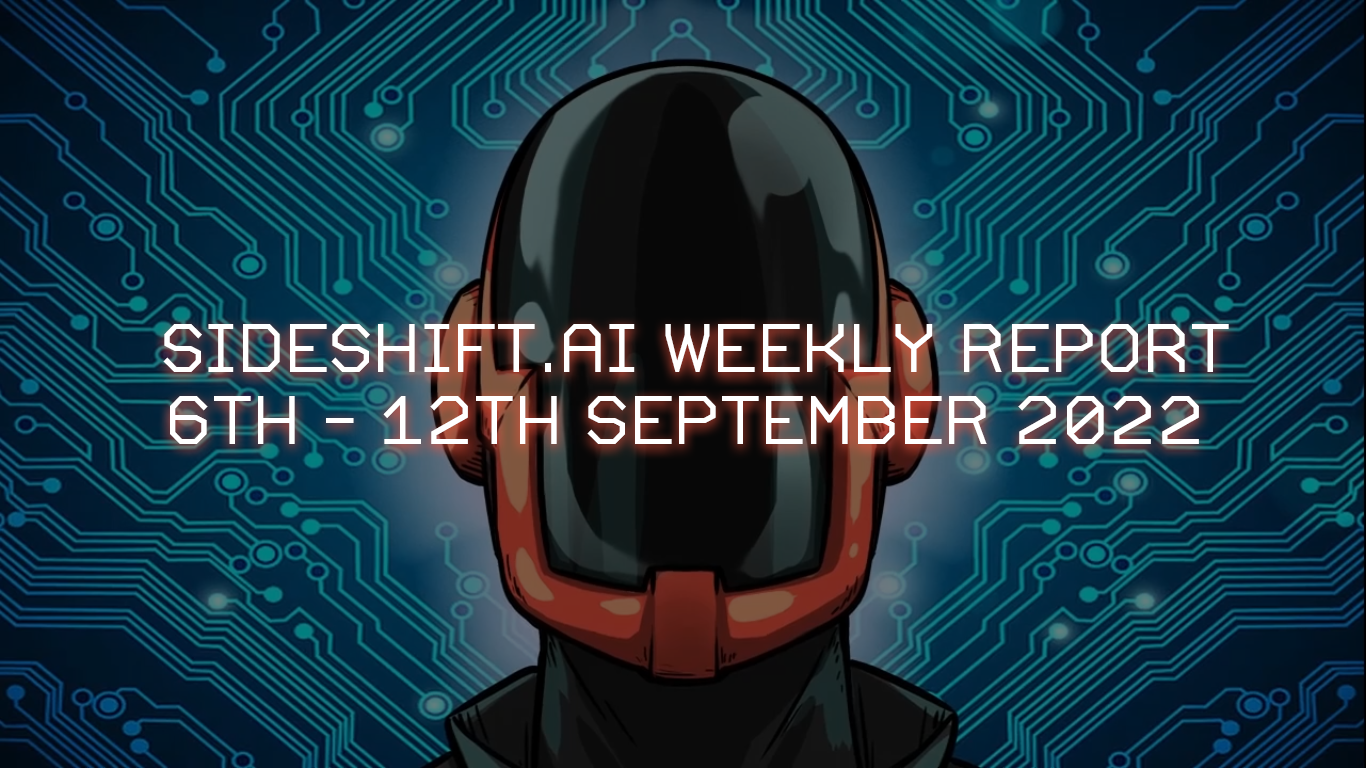 13 September, 2022
SideShift.ai Weekly Report | 6th - 12th September 2022
Welcome to the nineteenth edition of the weekly stats report - your one-stop shop for all things SideShift.ai.

XAI Token Market Update

This week the price of SideShift token (XAI) fluctuated between the range of $0.102365 / $0.125906, and at the moment is sitting at $0.111477. A current market cap of $10,388,284 positions XAI in place #886 overall.

A friendly reminder that the easiest way to stake XAI is to shift to svXAI directly from any SideShift supported coin of your choice. Users can read more about this process in the attached article, as well as follow along with XAI staking statistics on Dune. At the time of writing, 1svXAI = 1.046 XAI, meaning stakers have enjoyed a 4.6% appreciation in their svXAI value since the migration which occurred on July 6th, 2022.

XAI stakers enjoyed an average APY of 31.43% this week, approximately 4.2% higher than our average. A weekly rewards high of 42,431.55 XAI (51.59%) was deposited to our staking vault on September 10th, following a daily volume of $1.11m.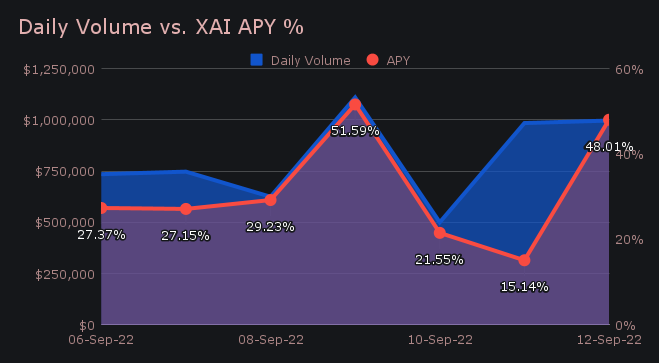 Additional XAI updates:

Total Value Staked: 37,370,399 XAI
Total Value Locked: $4,062,260

General Business News:

This week SideShift experienced a net weekly volume of $5.7m (+22.7%) alongside a shift count of 6,301 (+8.1%), resulting in daily averages of $814k on 900 shifts.

Following a slow period last week, this week bounced back together with the general crypto market. Not only did we observe a surge in overall volume and shift count, but 13/15 of our top coins saw more overall shift volume with some interesting new coins entering that group.

Ethereum remained the most demanded coin for the second consecutive week, as "The Merge" is now right on our doorstep. A 32.1% increase in settlements resulted in a total settle volume of $1.37m, representing nearly ¼ of our total.

This was followed by BTC with $1.36m (+32.2%), and USDT on Ethereum with $805k (+12.4%). In fact, it was a very positive week for our top settle coins, as XMR was the only coin in the top 8 which experienced less volume. It fell by 11.1% to net $503k.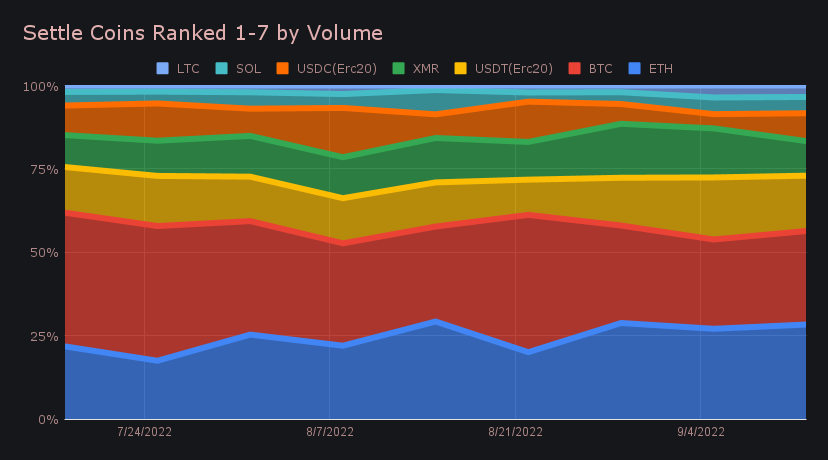 On the deposits side, BTC retained its top spot as the most deposited coin with a total of $1.59m (+18%), followed by ETH ($1.09m, +35.4%) and XMR ($560k, -10.8%)

When looking at our most shifted coins, it was interesting to see two unlikely coins enter the mix. As compared to the previous week, DAI on the Ethereum network more than doubled in overall volume (deposits + settlements) to rank 6th overall with $462k. Next, Zcash (transparent) did more than 18x from last week, as it ranked 8th with $370k. By and large, this volume is accredited to the deposit side, as DAI (ERC-20) and Zcash (transparent) ranked as our 4th and 5th most deposited coins, respectively.

As a whole, volume coming from chains other than Ethereum is continuing to increase incrementally. Most notably, shifts on the Solana network grew by 48.7% to total $443k in weekly volume (mainly due to shifts to/from ETH). The same is true for shifts on Binance Smart Chain, which grew 46.6% for a net of $408k. This can be seen in the chart below. It will be interesting to see how, or if "The Merge" affects this trend, and how users will respond in general.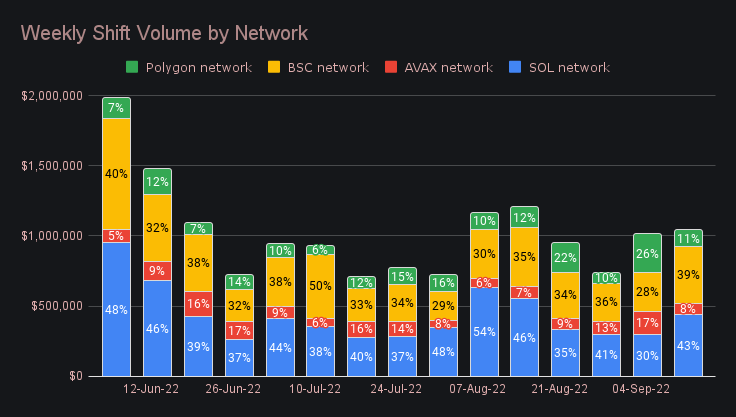 This week's top pair of BTC/USDT (ERC-20) accounted for 10.9% of weekly volume ($621k) and 2.5% of count. This concentration was mainly from Bitcoin.com wallet, with a lesser amount occurring directly on the SideShift.ai site. Our top pair had a high average shift size of $3.98k, with 39% of the total deposited BTC volume settling to USDT (ERC-20).
In listing news SideShift added Decentralized USD (USDD), an algorithmic stablecoin on the TRON network. A current market cap of $727m ranks USDD 66th overall. All recent listings have now experienced a handful of shifts, but USDT on TRON has stood out. Now in just its second week, it has netted $147k in overall shift volume (+260%).

All in all SideShift had a solid week with more action, new listings, and few problems. The exception was a minor rates collection issue which resulted in "error loading rates" appearing on the site for a short while - it was quickly resolved and shifts were back to normal.

Integration News

Integrations finished the week accounting for a healthy 35.8% (+4.9%) of weekly volume, and 31% of shift count (+0.8%)

That's all for now. Thanks for reading, happy shifting and we'll see you next time.