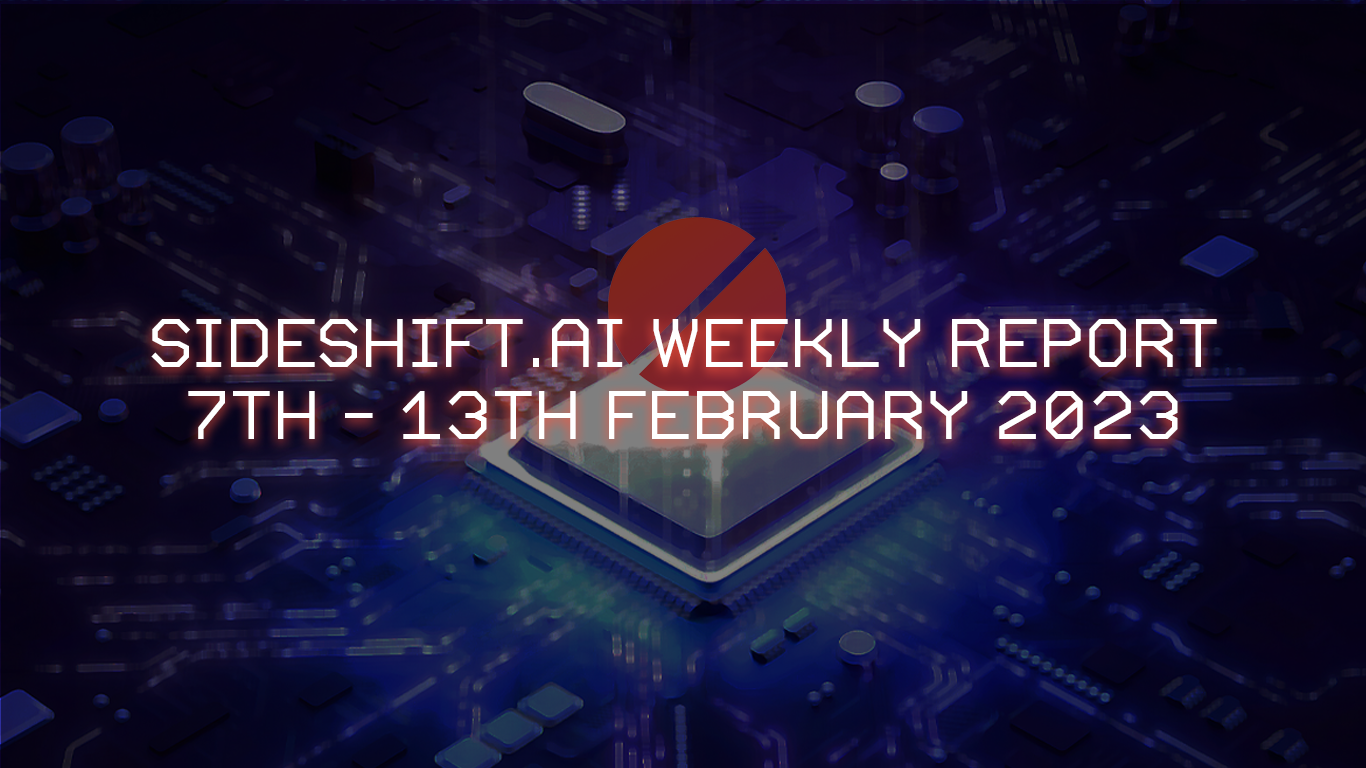 14 February, 2023
SideShift.ai Weekly Report | 7th - 13th February 2023
Welcome to the forty-first edition of the weekly stats report - your one-stop shop for all things SideShift.ai.

XAI Token Market Update

This week SideShift token (XAI) continued its gradual push higher, bouncing within the 7 day price range of $0.1432 / $0.1516. It briefly broke the $0.15 mark before settling down at its current price of $0.1491. At the time of writing, a current circulating supply market cap of $17,744,472 marks a slight 0.97% increase from last week.

XAI stakers were rewarded with an average APY of 20.47% throughout the period, with a daily rewards high of 74,018.6 XAI (an APY of 38.19%) being deposited to our staking vault on February 11th, 2023. This was following a healthy daily volume of $3.88m. Over the course of the previous 7 days, the cumulative sum paid to stakers totalled $38,703.93 USD, or 270,997.88 XAI.

In treasury news, 100 ETH was added over the week bringing the current sum to $2.75m. You can follow along with live treasury updates directly on zapper.fi.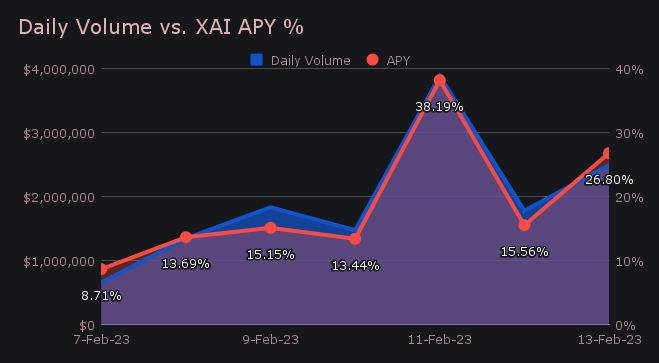 Additional XAI updates:

Total Value Staked: 84,693,005 XAI
Total Value Locked: $12,333,842

General Business News:

Despite a general lack of volatility unfolding in the market this past week, SideShift was able to maintain the momentum which began at the beginning of the month.

Although gross volume incurred a minor dip of 5.8%, it totalled a very respectable $13.5m for the week. This was accompanied by a shift count which, following a surge last week, fell 10.6% to net 6,798. Volume and count combined to result in daily averages $1.93m on 971 shifts. The fact that volume was able to sustain its relative strength regardless of the decline in shift count suggests that the average shift size increased - this week averaging just shy of $2k per shift. When denoted in BTC, weekly volume essentially mirrored that of last week, increasing just 0.3% to total 614.77 BTC.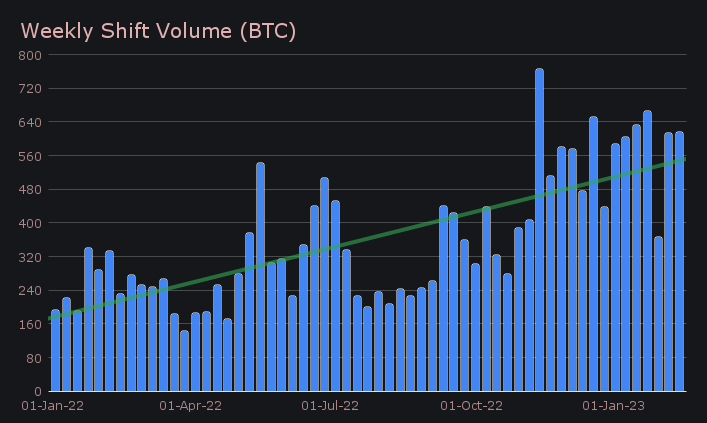 Trends pointed out in the previous report largely carried into this week, with Bitcoin once again sitting firmly front and center. It finished as the week's most deposited and settled coin by a huge margin, nearly double the volume of second place in both instances. BTC's deposit sum of $4.8m represented exactly ⅓ of the total this week, with the BTC/BCH pair playing a significant role.

The pair alone produced $2.6m and accounted for 20% of the weekly total. It was the primary reason for BTC deposit volume being so high, as a majority 62% of all deposited BTC volume was shifted to BCH. For context of its prominence, it was 3.5x bigger than the next closest pair, which was XMR/BTC with $747k.

The directionality of the BTC/BCH shifts was very much one way, as BCH deposits from users accounted for a minor 1% of the weekly total. Still, when looking at gross volume BCH deposits spiked 119%, ranking it as our second most deposited coin with a total of $2.7m. This was almost entirely the result of liquidity rebalancing necessary to process the aforementioned shift in dominance of BTC/BCH.

Aside from BCH, one of the few coins to also see an increase in deposit volume was XMR. It ranked as our third most deposited coin, growing 12.6% to net $1.4m. XMR repeatedly finishes among our top 3 coins, with deposit volume being fairly predictable as illustrated below. Also worth pointing out is the increase in BUSD deposits - this week growing 145% to net $148k. It was one of the only stablecoins to see an increase in activity week on week, and perhaps is related to the recent SEC FUD. Most recently, most BUSD deposits have been shifted into stablecoins on Ethereum, or Ethereum itself, although the volume hasn't been significant as of yet. It is something we will keep our eye on in the coming weeks.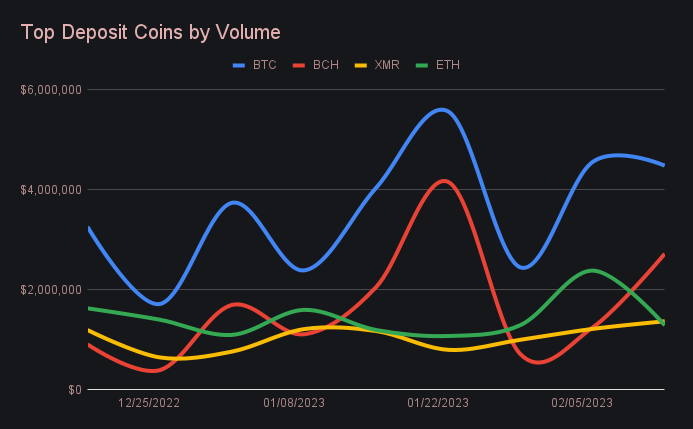 On the settlements side, the percentage changes in volume for our top 8 was a mixed bag - half of them increased, while the other half decreased. The top 3, which represent ⅔ of total settle volume, all saw increases. BTC led the way with $4.6m (+0.4%), while BCH placed second with $2.7m (+115%). You can note the ebb and flow in BCH settlements in the chart below. In third was XMR, growing 12.0% to finish with $1.4m. Conversely, after seeing an increase in demand last week, ETH fell sharply and dropped 48% to finish with $1.2m.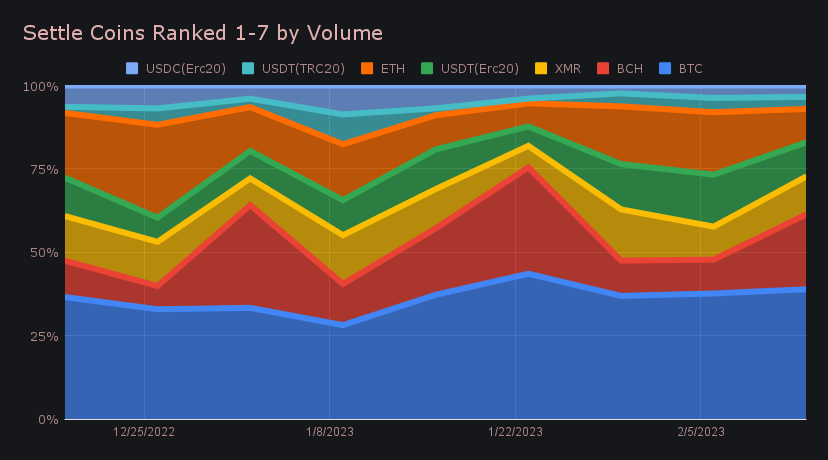 One key observation this week was the piqued interest of MATIC on Polygon, which uncharacteristically emerged among our top 8 coins. MATIC settlements grew by 67% and summed to $315k for the period, far exceeding the typical $30k-$40k norm noted in past weeks. This likely speaks to the ongoing strength of MATIC, and tells us that users are looking to hop on board in hopes of the upwards trend continuing. You can see in the chart below the atypical percentage jump that MATIC had this week, and that despite its popularity spike, it still placed second next to activity on TRON.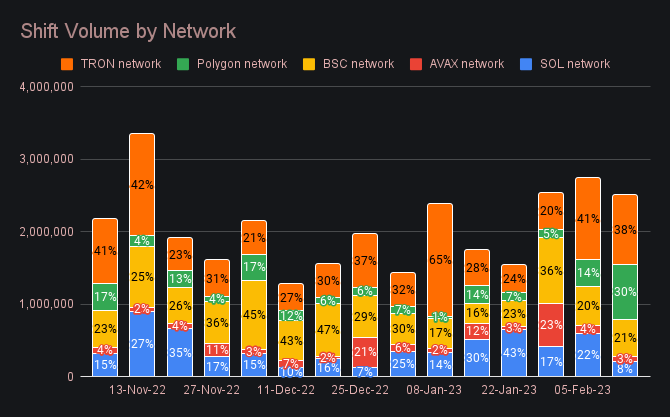 In general news, SideShift had a steady and stable week with no major issues arising. We did however have some difficulty sending TRON tokens, which may have resulted in a slight delay for certain users shifting to these coins. Our engineers were quick to find and implement a better solution, and current TRON token shifts are processing at a normal speed.

Affiliate News

Our top 10 affiliates combined to account for a total of $1.84m this week, approximately 34% lower than last week's sum. A combined shift count of 2,160 was just a 5.1% decrease from last, which speaks to the relative consistency in count for our top 10. Still, despite the solid shift count, volume from these affiliates only represented ~14% of the total, far lower than last week. Our top affiliate played a major role among our top 10, as it accounted for a dominant 56% of the top 10 volume total, and 66% of shift count. All in all, the average shift value for these affiliates came to $852, a decrease of $376 from last week's average.

That's all for now. Thanks for reading, happy shifting and we'll see you next time.