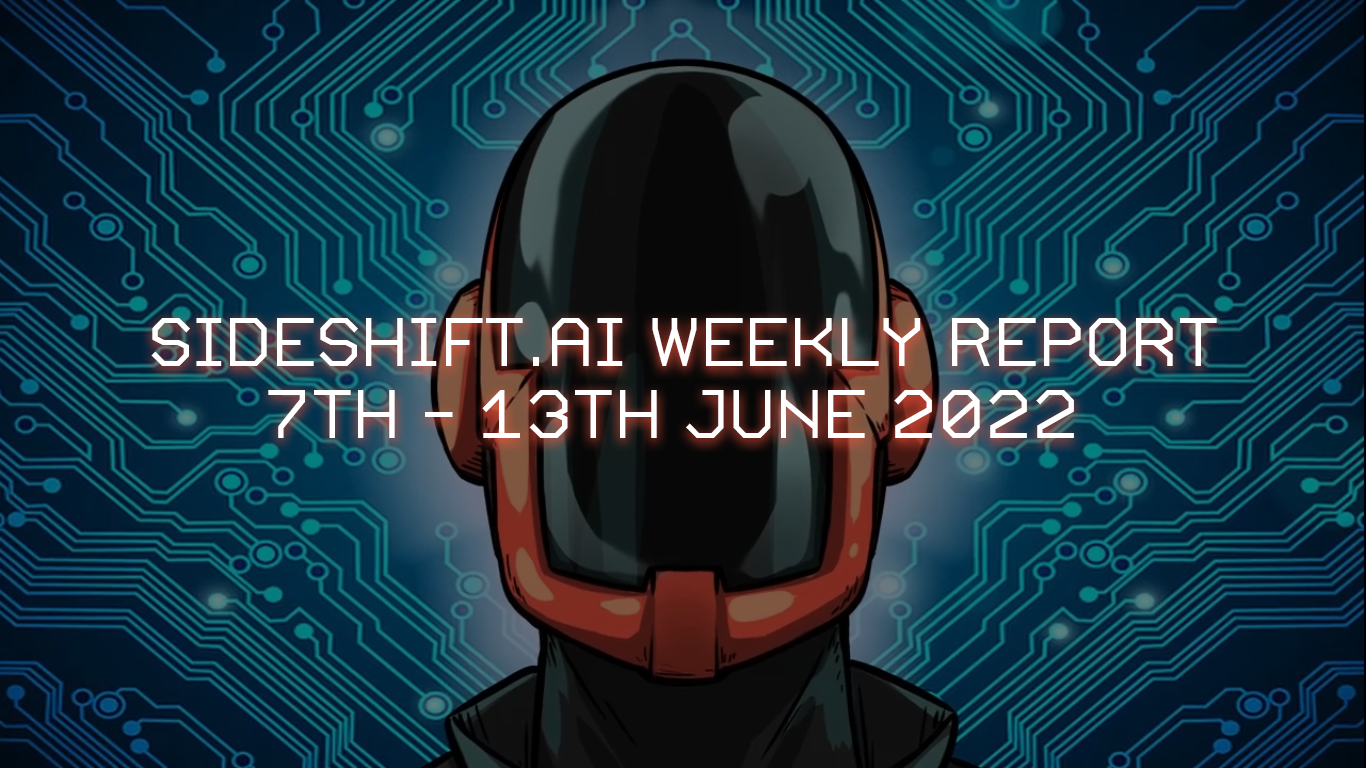 14 June, 2022
SideShift.ai Weekly Report | 7th - 13th June 2022
Welcome to the sixth edition of the weekly stats report - your one-stop shop for all things SideShift.ai.

XAI Token Market Update

This week's APY had a sprawling range that spanned from the low teens to the high thirties. The average for the week was 26.47%, with a daily APY high of 39.72% coming on June 13th, following a daily volume of $1.64m.
XAI has now closed the week firmly within the top 900 and currently sits in position #861. It is great to see XAI holding its place and actually making forward progress amidst the market dump. At the time of writing, the price of XAI is $0.195833 and has a current market cap of $9.22m. SideShift's volume has picked up alongside the market volatility, averaging just over $1.07m per day. This is a ~44% increase from the previous week's average.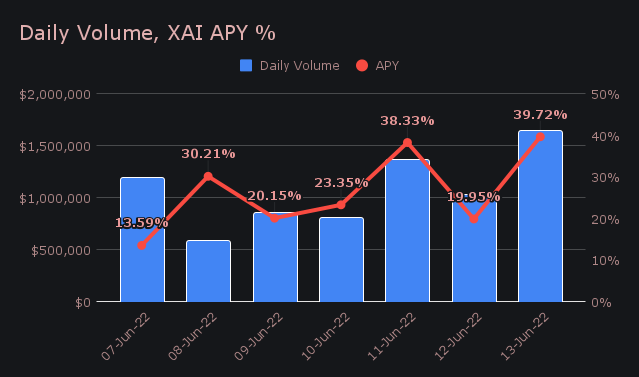 Additional XAI updates:

Total Value Staked: 32,809,491 XAI
Total Value Locked: $6,307,831

General Business News:

This week saw the markets crash yet again, and SideShift encountered more action as a result. The weekly volume summed at $7.47m, alongside a total shift count of 5,834. When compared with last week's net volume of $5.31m, this is a solid ~40% increase. This sizable jump in volume was accompanied by only a 2.3% increase in shift count week on week, suggesting that users were shifting a larger average amount per shift.
BCH settle volume has roared back to life with a net total of $1.9m for the week. This move firmly positioned BCH in the first place as our most demanded settle coin. The BTC/BCH shift pair was the most popular yet again, now for the 7th consecutive week. A whopping 57% of BTC deposits were shifted to BCH when measured by volume, which is significant when you consider the fact that BTC deposits more than doubled from last week. This pair accounted for a substantial 24.62% of the weekly volume but only 4.8% of the total shift count, which indicates a much higher average amount per shift when compared to the volume of other pairs.
BTC deposits have now begun to diverge from settlements, with deposit volume sloping upwards while settlements remain relatively flat. We witnessed 101% growth in BTC deposits when compared to last week, and it was our most deposited coin by far, with $3.23m (43% of deposits). The next closest was ETH, with $1.23m (16%) in deposit volume. In fact, both the deposit volume of BTC and ETH were the highest that they've been in the past 4 weeks.
The top 3 settlement coins (BCH, BTC, ETH) dominated with 64% of settle volume. This is a ~12% increase from last week. Also, the percentage of shifts settling to coins outside of the "top 10" is shrinking - this week accounting for $485k (6.5%) of settle volume. All of this tells us that, by and large, people appear to be steering clear of alts for the time being.
It is interesting to observe the continued influx of Cardano (ADA), which for a second week has seen a sizable deposit total of $203k. 97% of ADA deposits settled to USDC (erc20), which was the same pair of choice as last week. These deposits ranked ADA as our 8th most popular deposited coin for the week.
Finally worth noting is a stack of shifts coming from an affiliate on the 11th and 12th, which largely settled to ETH on the Optimism network. The majority were very low volume, but this placed ETH (opt) as our 10th most popular settle coin when measuring by count.
Although the general market is quite rough, SideShift continues to move forward step by step with a sharp focus on building and growth. We encountered no major issues throughout the week.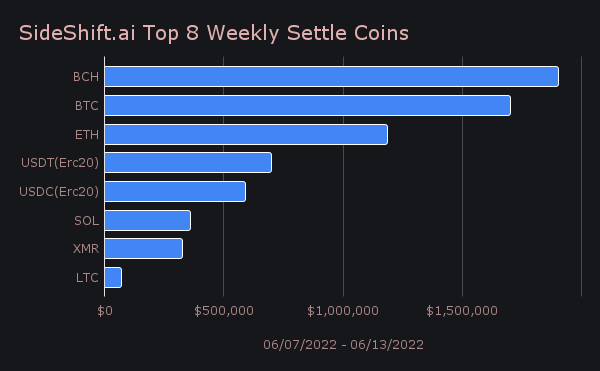 That's all for now. Thanks for reading, happy shifting and we'll see you next time.