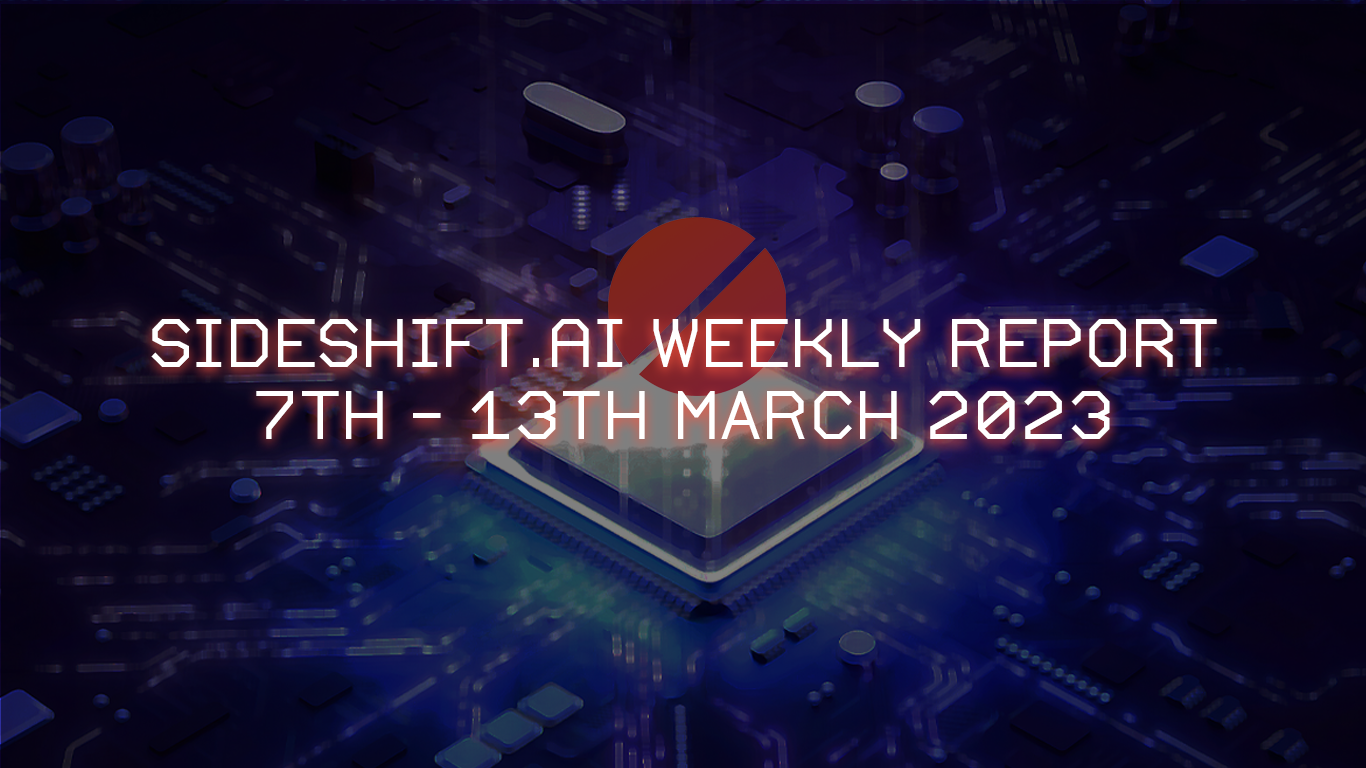 14 March, 2023
SideShift.ai Weekly Report | 7th - 13th March 2023
Welcome to the forty-fifth edition of the weekly stats report - your one-stop shop for all things SideShift.ai.

XAI Token Market Update

SideShift token experienced some volatility along with the rest of the market on March 11th, 2023 following the USDC de-peg, and fell slightly from the ~$0.15 benchmark it had held for the previous month. It moved within the 7 day range of $0.1341 / $0.1534, and at the time of writing is sitting at a price of $0.1422 alongside a circulating supply market cap of $16,926,790 (-6.1%).

XAI stakers were rewarded with an average APY of 13.61% throughout the week, with a daily rewards high of 50,133.91 XAI (an APY of 23.27%) being distributed directly to our staking vault on March 14th, 2023. This was following a daily gross daily volume of $1.9m. As a whole, this week stakers received a total of $29,485.77 USD, or 182,258.34 XAI.

An additional 100 ETH was added to our treasury this past week, bringing the current total to $3.35m. Users can follow along with live treasury updates directly on zapper.fi.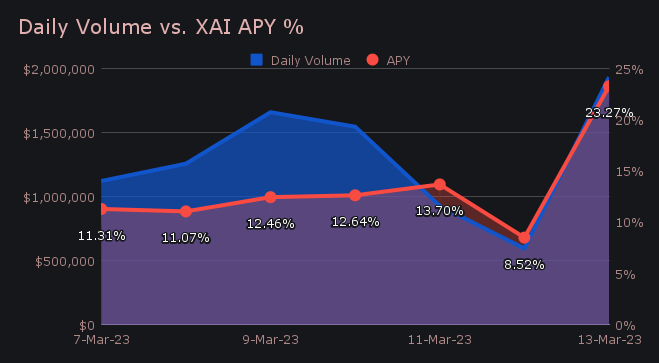 Additional XAI updates:

Total Value Staked: 88,565,962 XAI
Total Value Locked: $12,585,223

General Business News:

This past week brought general market sentiment on an absolute roller coaster ride, with the USDC de-peg evoking intense TerraUSD PTSD for some, only to then pull a complete 180 and leave the market with a very bullish outlook.

The up and down movement brought shift action to SideShift in waves. We experienced a pump in volume when volatility occurred in both directions, with the highest being when that movement was to the upside later in the week. We finished the week with $9.1m (+17.9%) in gross volume alongside a shift count of 6,812 (-10.1%).

These figures combined to produce daily averages of $1.29m on 973 shifts - a decrease of more than 100 shifts per day however with nearly $200k more in volume. The added daily volume was most noticed in shifts with a value greater than $10k, as this category saw shift count grow by nearly 42%. What this means is that our volume this week primarily derived from big value shifts, which differs from last week, which saw a higher overall count which contained generally lower values. When denoted in BTC this week's volume change was even more notable, increasing by 24.8% to total 418.11 BTC.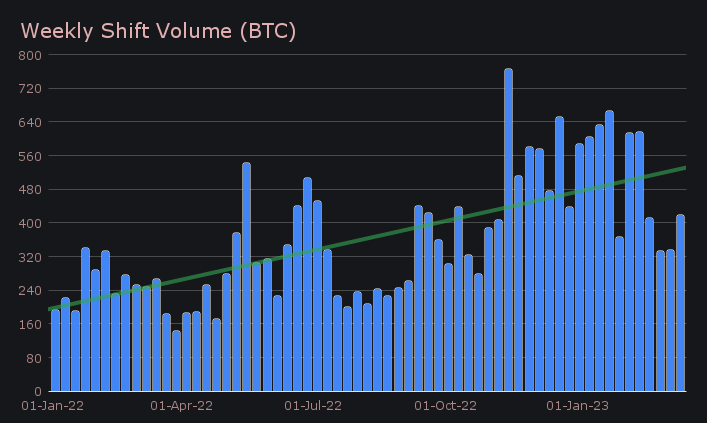 Just as BTC is now leading the market move, it also was the center point of shifting this past week. Total BTC volume increased by a solid 36%, finishing the week with $4.8m. This came about during a period of generally positive volatility, as BTC's price increased 9.1% from its weekly open to close (compared to downwards trending -3.2% in the previous week). Additionally, it moved by more than $1,400 from its average price for the week as compared to a change of less than $600 last week.
Although many of our top coins remained the same, there were a few impactful observations. USDT (ERC-20) once again secured itself the spot of SideShift's second most popular coin behind BTC, finishing the week with $3.3m. It has now had increased shift volume in consecutive weeks, which coincides with the fact that BTC / USDT (ERC-20) led all shift pairs with $1.26m in user volume. The directionality from users is quite clear, with settlements outweighing deposits nearly 3:1 - you can note USDT (ERC-20)'s settlement growth in recent weeks below. USDT (ERC-20) was the only stablecoin to have settlements outweigh deposits this week. It was also peculiar to see XRP enter the top 8, with deposits increasing 450% to net $240k. Settlements changed by a similar proportion, although this was mainly due to liquidity rebalancing.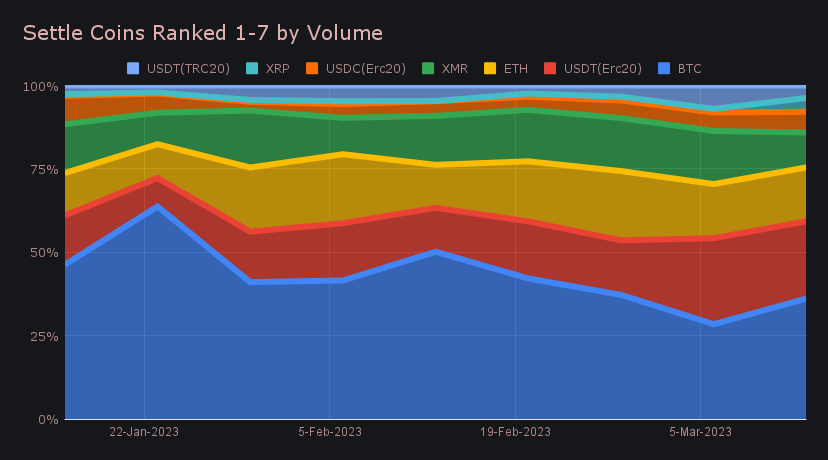 When looking at networks other than Ethereum, we can see that all but Optimism and Binance Smart Chain had a week on week decrease, falling in line with the concept that the week focused on BTC. Although Optimism more than doubled with an increase of 118%, the volume didn't amount to anything significant and finished with $74k. BSC on the other hand grew a respectable 27% and claimed first place among alternate networks supported on SideShift. It finished with $637k and passed Tron along the way, which dropped 43% from its near $1m performance in the previous week.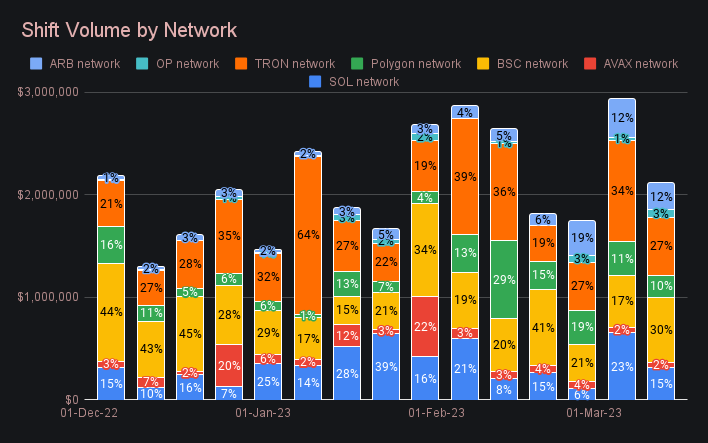 Usually SideShift would see increased stablecoin deposits when the market is bullish, however this week saw users unloading their various stablecoins due to the fear of not being so "stable". The USDC depegging event saw its deposit volume increase to a significant $528k (+57.5%) despite disabling USDC deposits during the worst of it. DAI also lost its peg, which led to a sizable $220k in deposit volume (+197.8%) - DAI was also disabled for a short period. The general depegging fear existing in the market was not only noticeable in these two cases, but other stablecoins as well.

Examples on SideShift included BUSD, which had $124k deposit volume (+139.96%), and USDT on Binance Smart Chain with $163k (+154.31%), which both showed significant increases when compared to the week prior. All together, stablecoin deposits other than USDT on Ethereum increased by 29.7% to bring in more than $1.4m in volume. As a proportionate change, this far exceeds the weekly fluctuation in settlements for the same category, which increased just 4.8% to finish shy of $1.2m.

On the other side of this was a concentration of settlement volume to BTC, as many of these stablecoins fled to the safety of BTC. BTC settlements finished with a whopping $2.6m (+51.7%), while ETH settlements also saw growth, and increased to almost $1.2m (+18.9%).

Affiliate News

The top 10 affiliates combined for $2.27m, an impressive 50.4% jump from the previous week. Shift count for these 10 however decreased by 15.8% and summed to 1,999, a nominal decrease of 376 shifts from last week. This follows the same overarching trend noted when considering all shifts over the course of the week (volume increasing despite a decrease in count), but to a more extreme measure.

All in all, our top 10 represented a sizable 25.1% (+5.4%) of weekly volume, with the top affiliate having a stand out performance and representing 15.4% of the total on its own.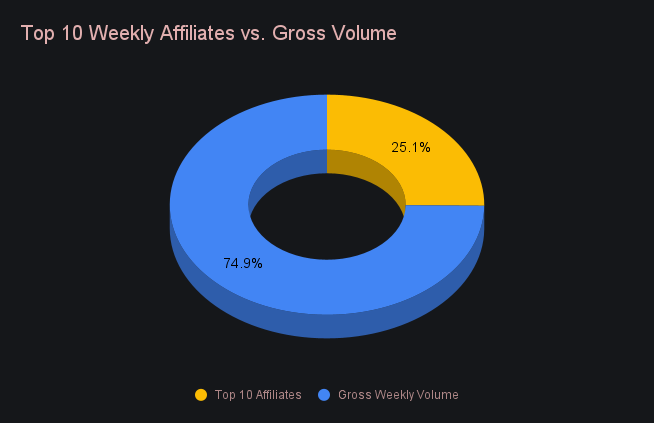 That's all for now. Thanks for reading, happy shifting and we'll see you next time.