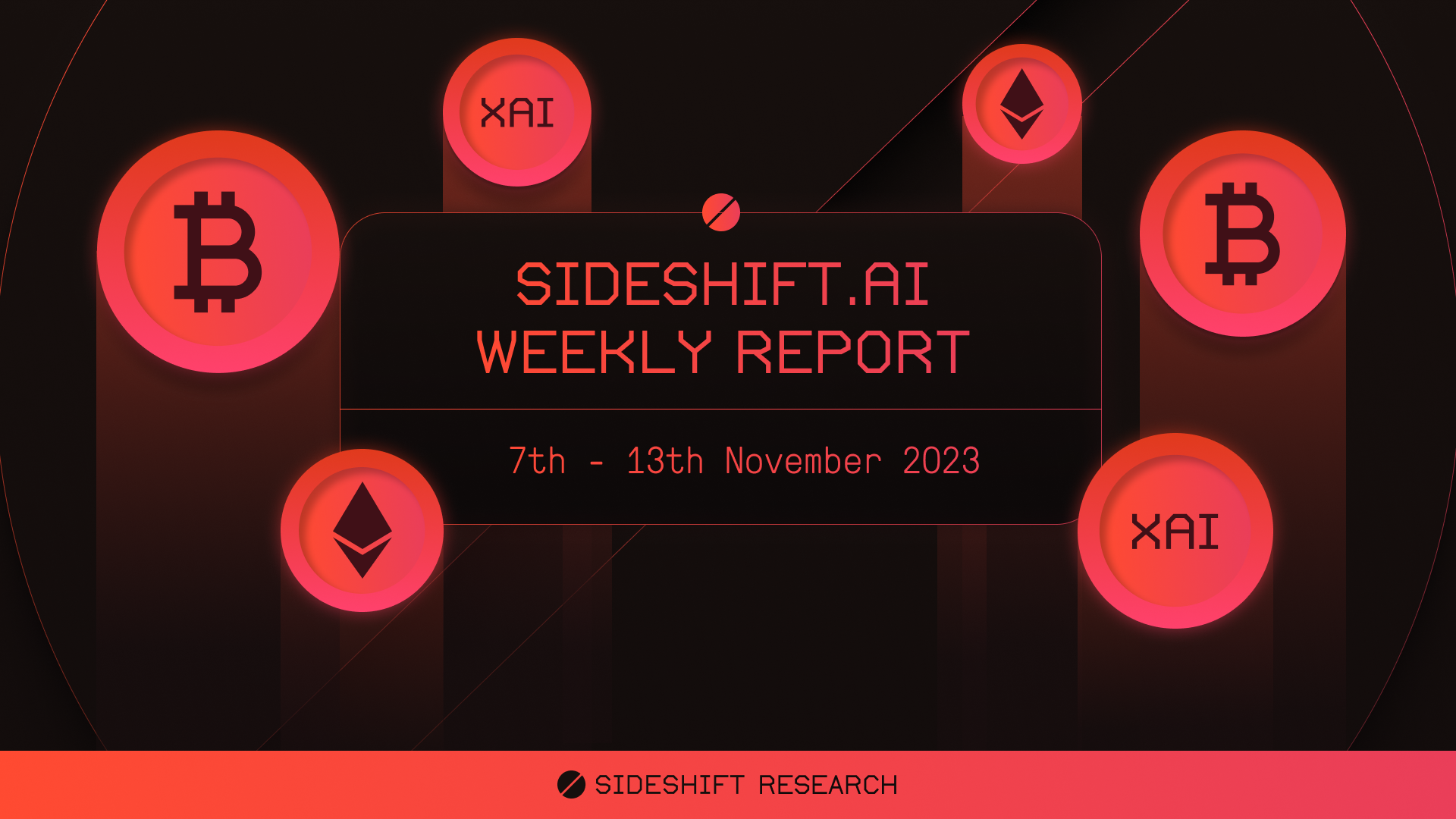 15 November, 2023
SideShift.ai Weekly Report | 7th - 13th November 2023
Welcome to the eightieth edition of the weekly stats report - your one-stop shop for all things SideShift.ai.
This week, SideShift token (XAI) moved within the 7 day range of $0.0678 / $0.0781 , dipping below the $0.07 mark, before reclaiming it later in the week. At the time of writing, XAI is sitting at a price of $0.0741 and has a current market cap of $9,460,309 (-0.5%).

XAI stakers were rewarded with an average APY of 13.16% this week, with a daily rewards high of 50,536.6 XAI being distributed to our staking vault on November 10th, 2023. This was following a daily volume of $1.6m. This week XAI stakers received a total of 263,431.43 XAI or $19,467.58 USD in staking rewards.

The value of 1 svXAI is now equal to 1.2550 XAI, representing a 25.50% accrual on stakers' investments. A friendly reminder that the easiest way to participate in XAI staking is to shift directly to svXAI, from any coin of your choice.

An additional 100 ETH was added to SideShift's treasury throughout the course of the week, bringing the current total value to $6.19m. Users are encouraged to follow along with live treasury updates, via sideshift.ai/treasury.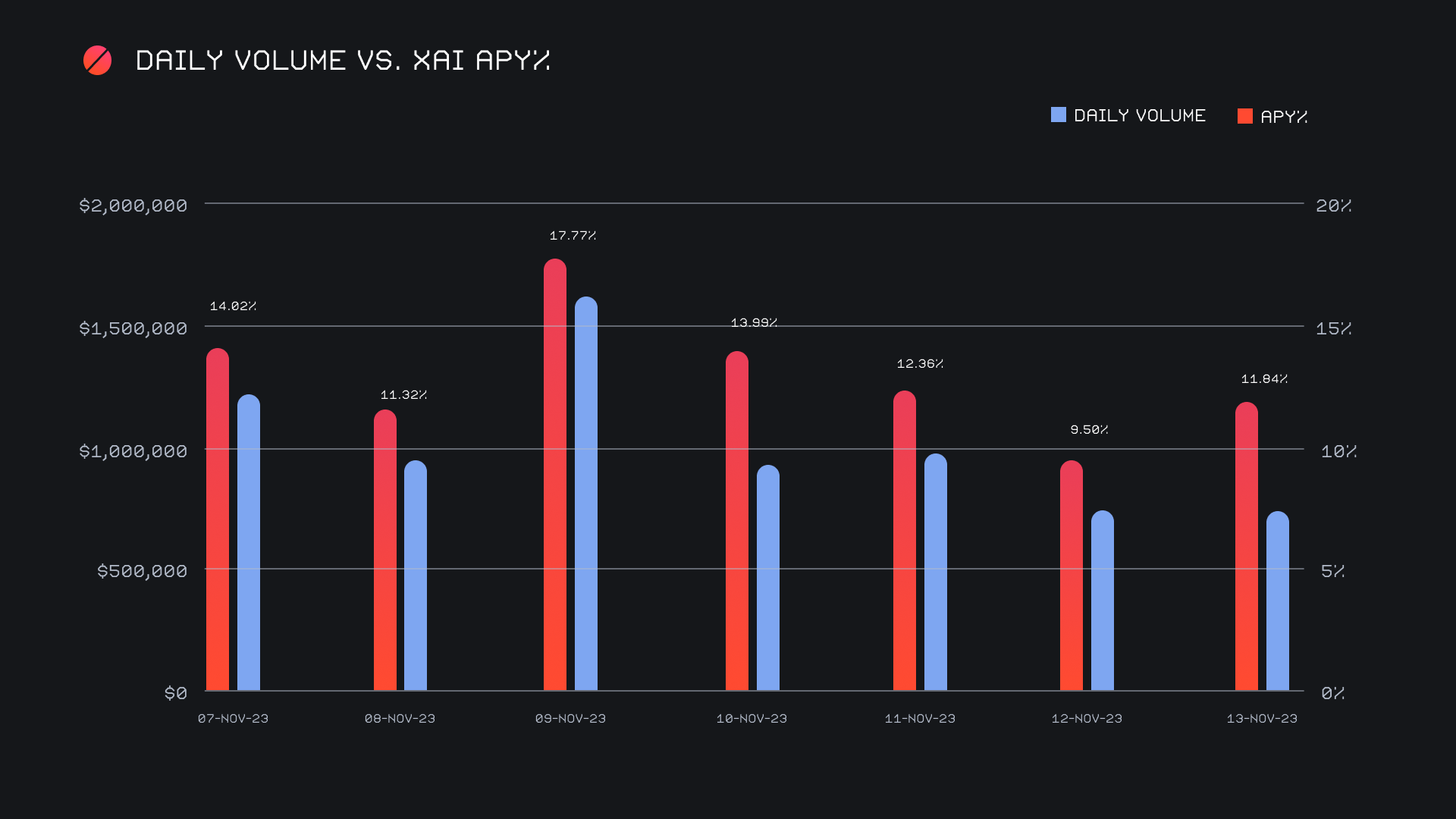 Additional XAI updates:
Total Value Staked: 113,025,678 XAI (+0.2%)
Total Value Locked: $8,393,927 (-0.6%)
General Business News

With BlackRock's filing for a spot Ethereum ETF, ETH saw positive price action throughout the week, playing some catch up after lagging behind BTC for several weeks. The general market has woken up, with some altcoins continuing their surge.
SideShift had a solid performance, seeing an increase in shift volume due to the ongoing market action. We ended the period with a gross $7.2m (+15.7%) alongside a shift count of 6,001 (+1.9%). We noted a slightly higher proportion of shifts with a value exceeding $10k this week (+2.1% higher than last week), which allowed for a higher increase in volume as compared to shift count. Together, these figures combined to produce daily averages of $1.0m on 857 shifts. When denoted in BTC, our weekly volume amounted to 197.03 BTC (+11.2%).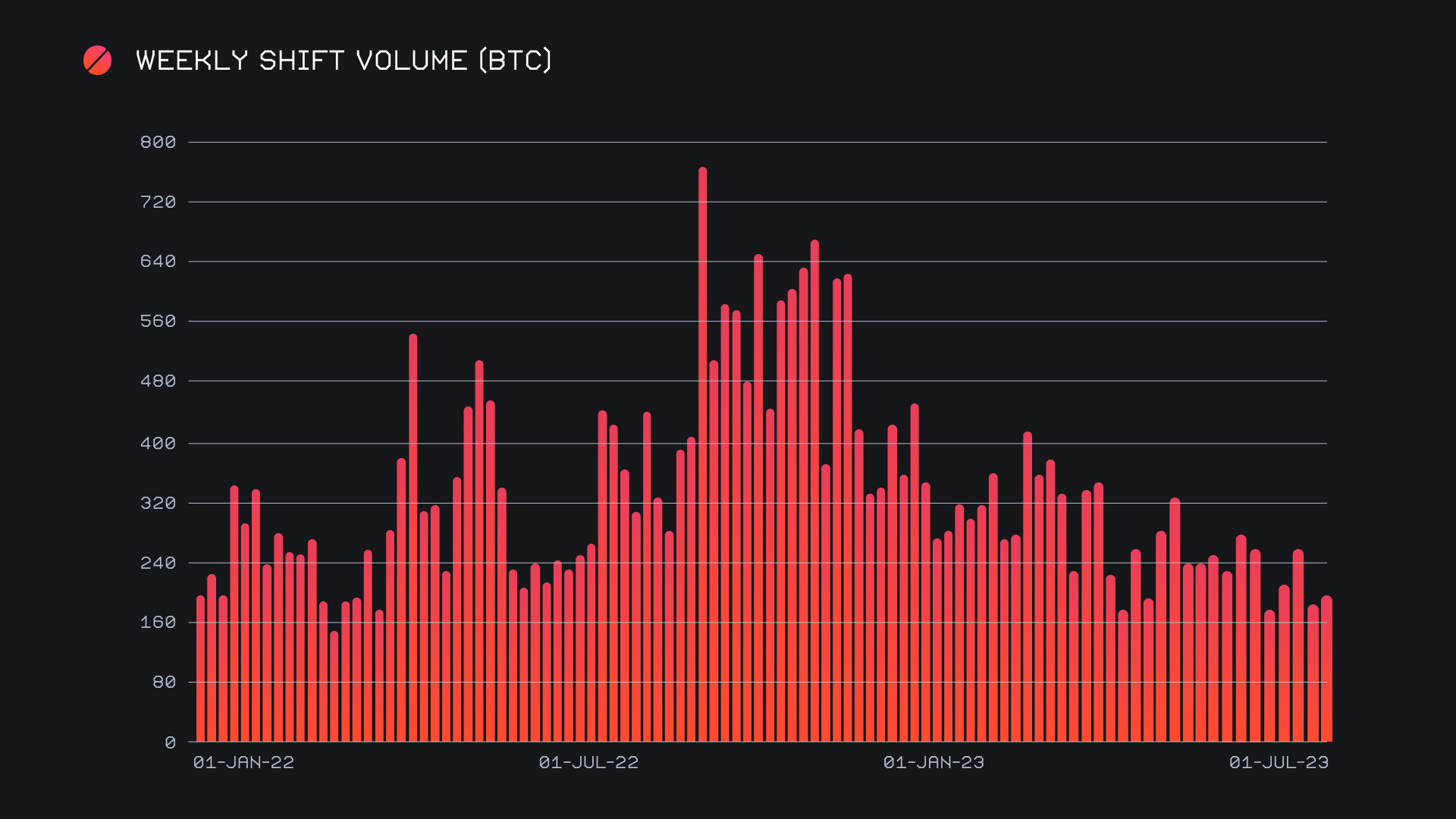 BTC has again topped our list as the most popular coin by volume, totalling $4.2m (+24.6%) for the week, which is $835k higher than the previous. BTC deposits were up 16.5% to hit just over $2m received, although maybe unsurprisingly, the main growth was in BTC settlements, which rose a larger 33.2% to end close to $2.2m. This means that we sent more BTC compared to what we received.

ETH volume has extended further, building on its impressive performance last week, as we saw overall volume sitting just shy of $3m (+9%). This was pretty much an even split between users depositing and receiving, with roughly $1.5m volume each way. This has been our highest weekly ETH volume for some time.

USDT on the Ethereum network was our third top coin, despite incurring a -5.6% decline, to see $2.3m total volume. In a sign of the changing tides in the market, USDT deposit volume increased +12.4% for $1.2m, while settlement volume was down to $1.1m, a -19.5% decline. This meant that USDT deposit volume actually surpassed settlements, with users jumping back into risk assets as sentiment gets more bullish. Still, BTC/USDT (ERC-20) remained our week's most popular pair, with $733k.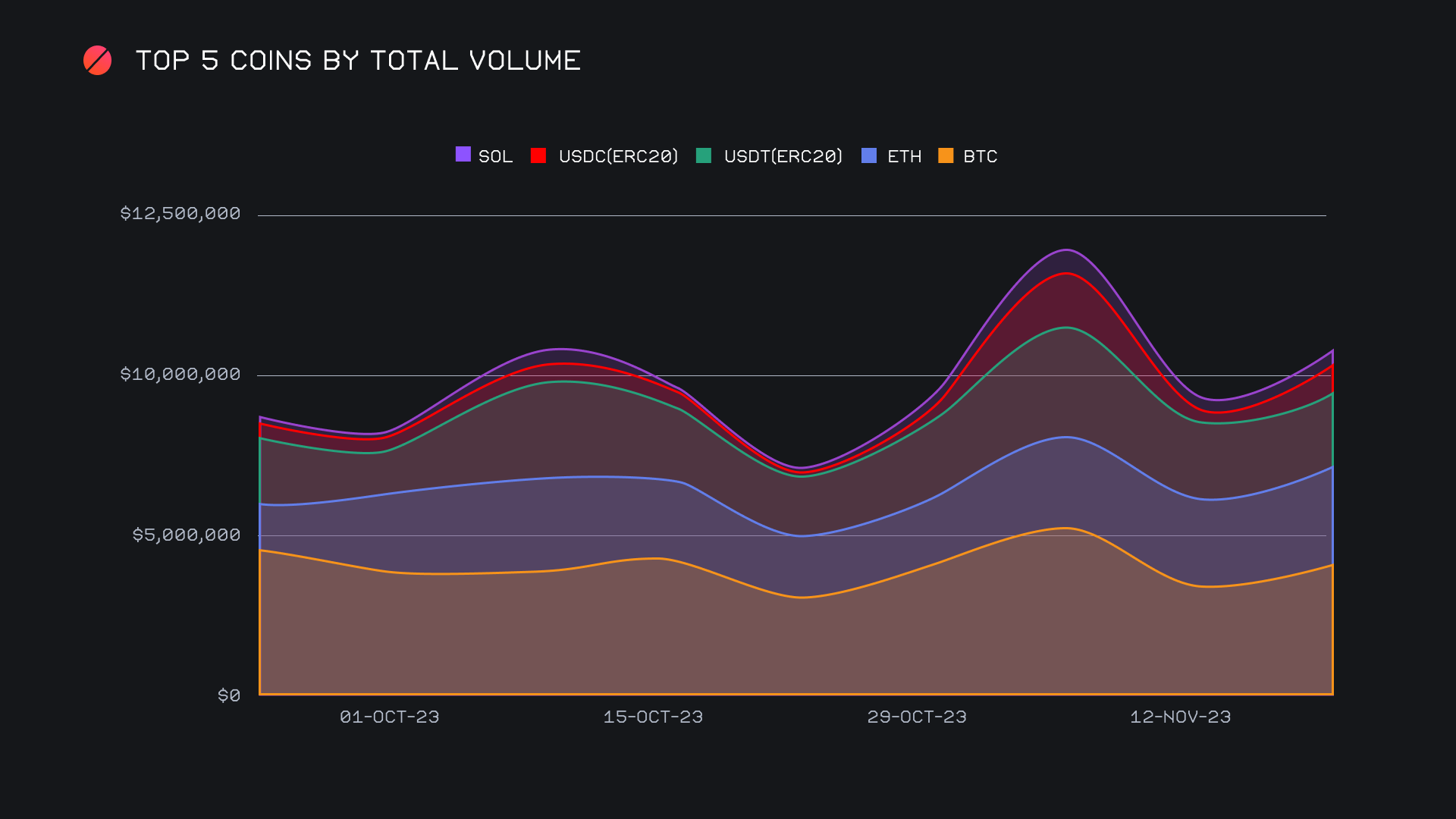 It seems users could not resist trading some altcoins that were pumping in price this week. SOL had a good one, more than doubling to reach over $700k in volume. MATIC on Polygon too enjoyed a whopping 600% increase for $215k. DOGE also went over 3x that of last week with $116k in total volume. XRP caught some eyes as well, seeing an impressive +135.4% increase for $243k. Although not a massive change, we can still note the impact of these rises in altcoin shifting. By comparison, our top 3 coins proportion of the total declined by ~3% from last week, despite most total volumes increasing. This tells us that altcoin shifting grew at a faster rate than our top 3.
This idea is also reflected when looking at alternate networks to ETH. Collectively, these networks summed for $2.3m, an increase of +26.5% from last week. The SOL network sat at the forefront this week, undergoing a sharp spike of +125.6% to end in first place with $853k. In second place was the TRON network, which uncharacteristically declined -26.7% for a gross $531k. It seems to be garnering less traction in recent weeks than in months past. In third place was the Polygon network, which noted the most substantial rise of all networks. More than tripling from last week, it finished with $308k, driven by shifting of the network's native coin, MATIC.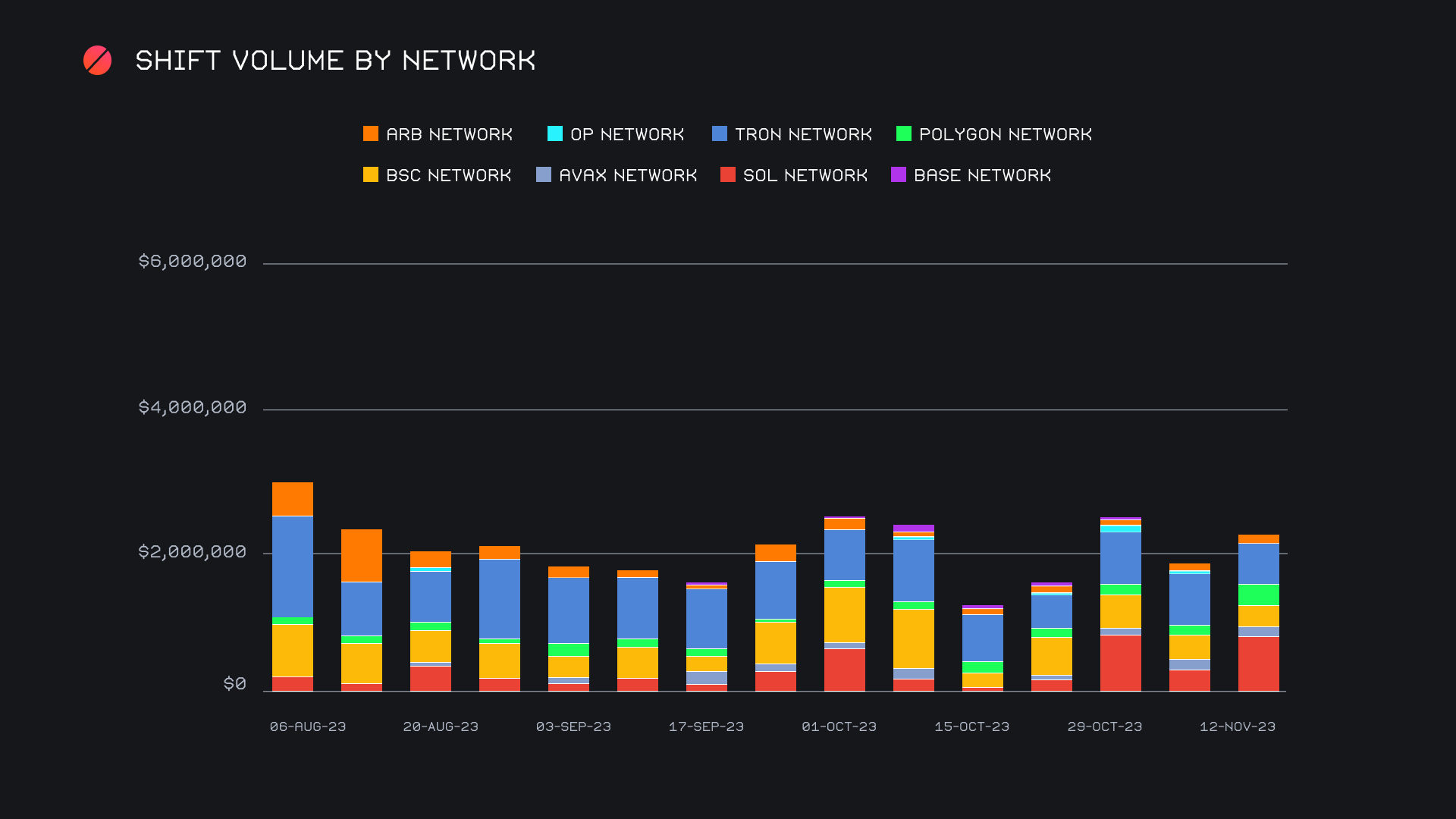 As a final note on alternate networks, it should be pointed out that although the average weekly volume continues to linger around the $2m mark, collective shift count has reached a 15 week high. Shift count on the SOL network exceeded 1,000 for the week, while count on the TRON and BSC network are not far behind. We can see here that increases in the price of a coin impact not only the size of the shifts, but also the frequency.
In listing news, SideShift added support for Celestia (TIA), Gains Network (GNS) on the ARB network, and eCash (XEC). Shifting with all of these coins is now live, from any coin of your choice.
Affiliate News
Our top affiliates did well and combined for a collective $2.8m, a +14.7% rise from last week's sum. Interestingly, shift count saw the opposite trend unfold, as count declined - 12.8% for a total 2,161 shifts. Our top two affiliates comprised the bulk of this volume, ending with respective totals of $1.2m (+7%) and $938k (+52.3%). The first placed affiliate also excelled in shift count, representing nearly 20% of the week's total shift count.
Overall, our top affiliates accounted for 39.3% of weekly volume, -0.4% lower than last week's proportion.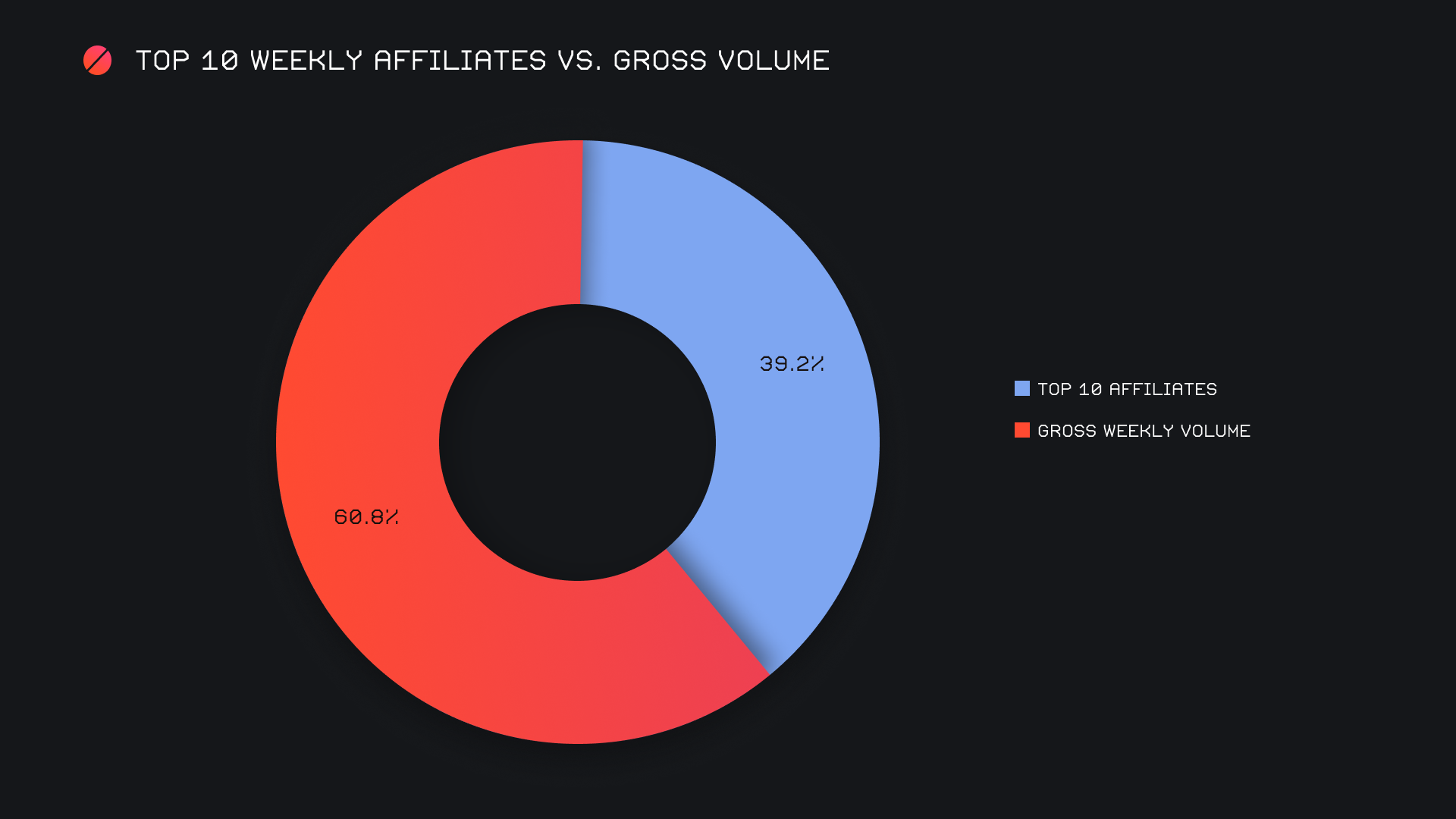 That's all for now. Thanks for reading, happy shifting and we'll see you next time.