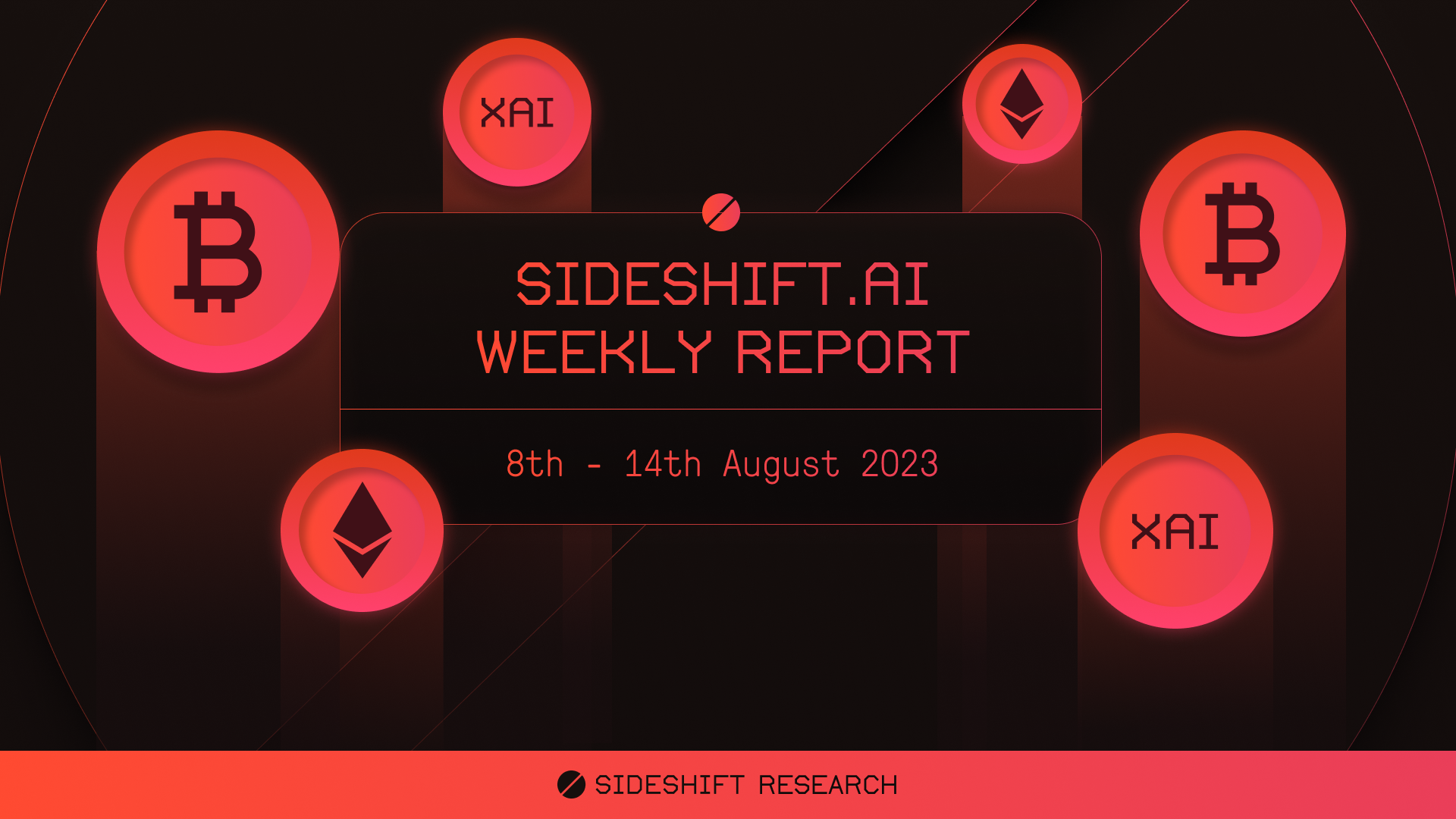 16 August, 2023
SideShift.ai Weekly Report | 8th - 14th August 2023
Welcome to the sixty-seventh edition of the weekly stats report - your one-stop shop for all things SideShift.ai.

XAI Token Market Update

This week SideShift token (XAI) maintained a fairly tight range, moving within the 7-day bound of $0.1050 / $0.1101. At the time of writing, the price of XAI is currently sitting at $0.1068 and has a current market cap of $13,205,658 (+0.3%).

XAI stakers were rewarded with an average APY of 7.34% this week, with a daily rewards high of 30,222.17 XAI (an APY of 10.49%) being distributed to our staking vault on August 10th, 2023. This was following a daily volume of $1.2m. This week XAI stakers received a total of 143,386.19 XAI or $14,593.70 USD in staking rewards.

1 svXAI is now equal to 1.2254 XAI, representing a 22.54% accrual on stakers investments. A friendly reminder that the easiest way to participate in XAI staking and earn daily rewards is to shift directly to svXAI, from any coin of your choice.

An additional 50 ETH was added to our treasury on August 9th, 2023, and the current total is sitting at a value of $4.46m. Users are encouraged to follow along with live treasury updates directly on Debank.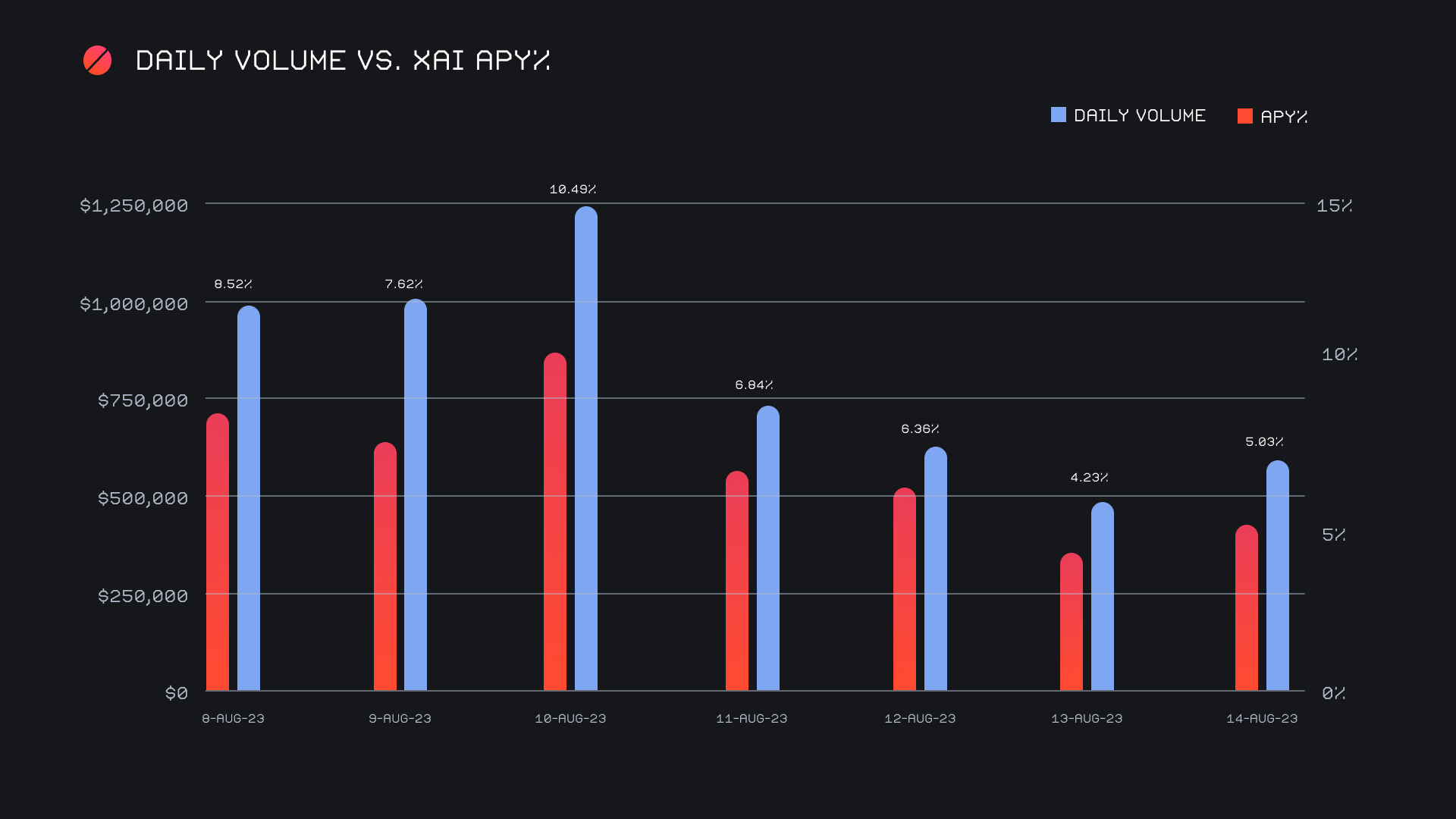 Additional XAI updates:

Total Value Staked: 110,734,679 XAI (+0.1%)
Total Value Locked: $11,699,119 (+3.9%)

General Business News:

This week proved to be one of the least volatile weeks experienced thus far in the year, with BTC and ETH having respective standard deviations of just -1.2% and -0.6% throughout the week. When compared to the weekly average, this means their prices had respective changes of just $155 and $6 - shockingly low fluctuations resulting in a very quiet week.

SideShift ended the period with a gross volume of $5.7m (-24.6%) alongside a shift count of 5,324 (-6.1%), numbers that are approaching lows set two weeks ago. For the fourth consecutive week we have now seen a sizable change in volume (ie. > 20%) while the change in shift count has remained less than 8%. This emphasizes the impact that large scale shifting has, and reinforces to us that it comes and goes in waves. Together, these figures combined to produce daily averages of $813k on 761 shifts. When denoted in BTC, our weekly volume amounted to 192.96 BTC (-25.2%)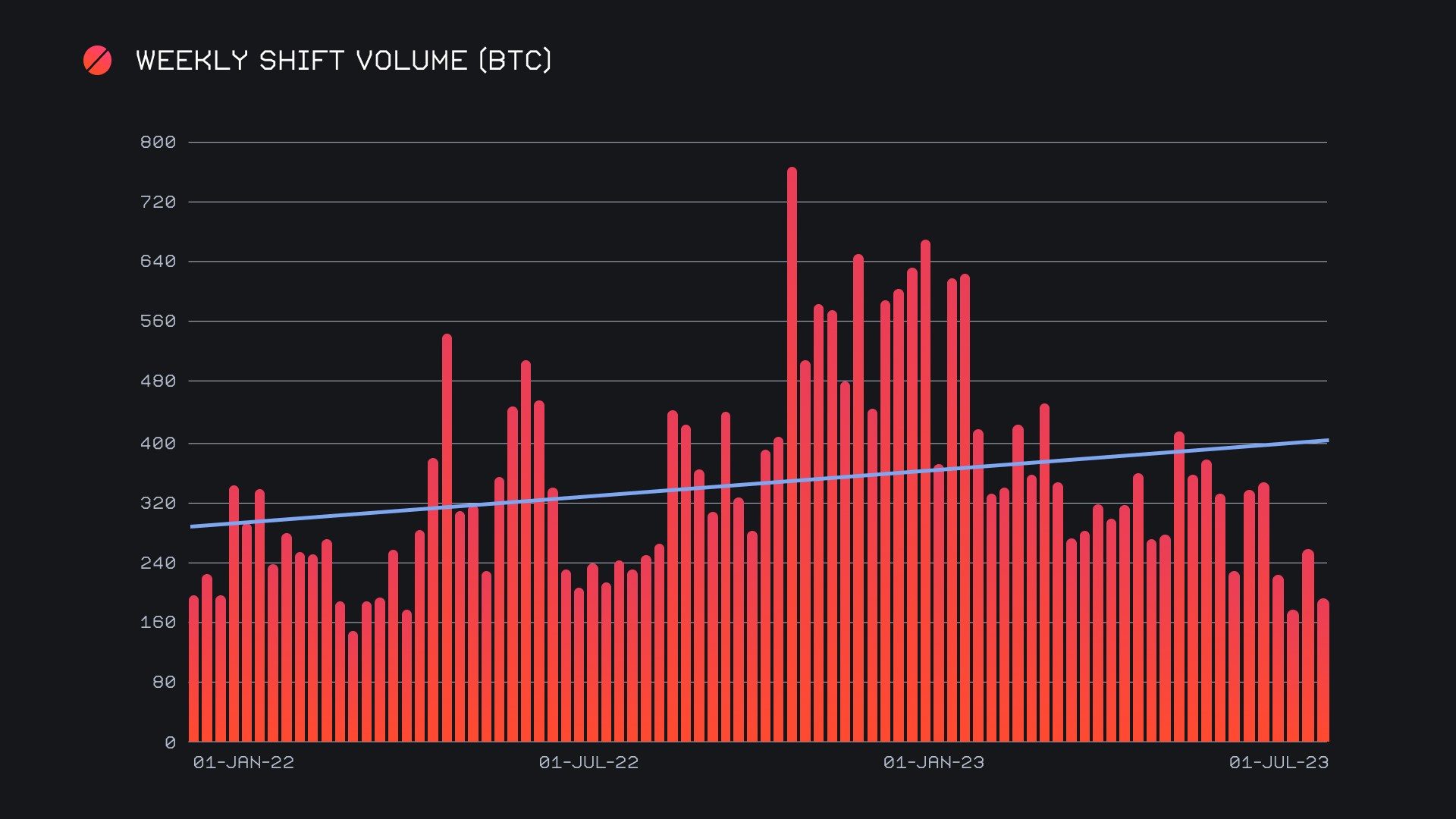 The slow week impacted nearly every coin, but most notably our top 5. When looking at total volume (deposits + settlements), all top 5 coins saw a week on week decrease exceeding 20%. Although this appears negative at first, it is interesting to dissect them a bit further and focus more specifically on user shifting. Whereas user BTC deposits hardly budged (-1.6%), user settlements fell off of a cliff, dropping by 45.7% to finish with $803k. This is just the second time this figure has dipped below $1m since March, 2023. Conversely, we saw user ETH settlements increase by 36.7%, surpassing BTC to finish as our most demanded coin from users. With $1.1m. USDT (ERC-20) also managed to generate more user demand than BTC this week, finishing with $991k in settlement volume. It isn't entirely surprising to see USDT (ERC-20) ranked ahead of BTC, considering the BTC / USDT (ERC-20) pair finished as our most popular for the 9th consecutive week, with $734k in shift volume. A majority 55% of deposited BTC was shifted to USDT (ERC-20), with a further 24% being shifted to ETH. It is however unusual to see such a low level of interest in BTC, considering its incredibly consistent behavior throughout the year. Cumulatively the total volume of our top 5 fell below the $10m threshold once more, as illustrated in the chart below.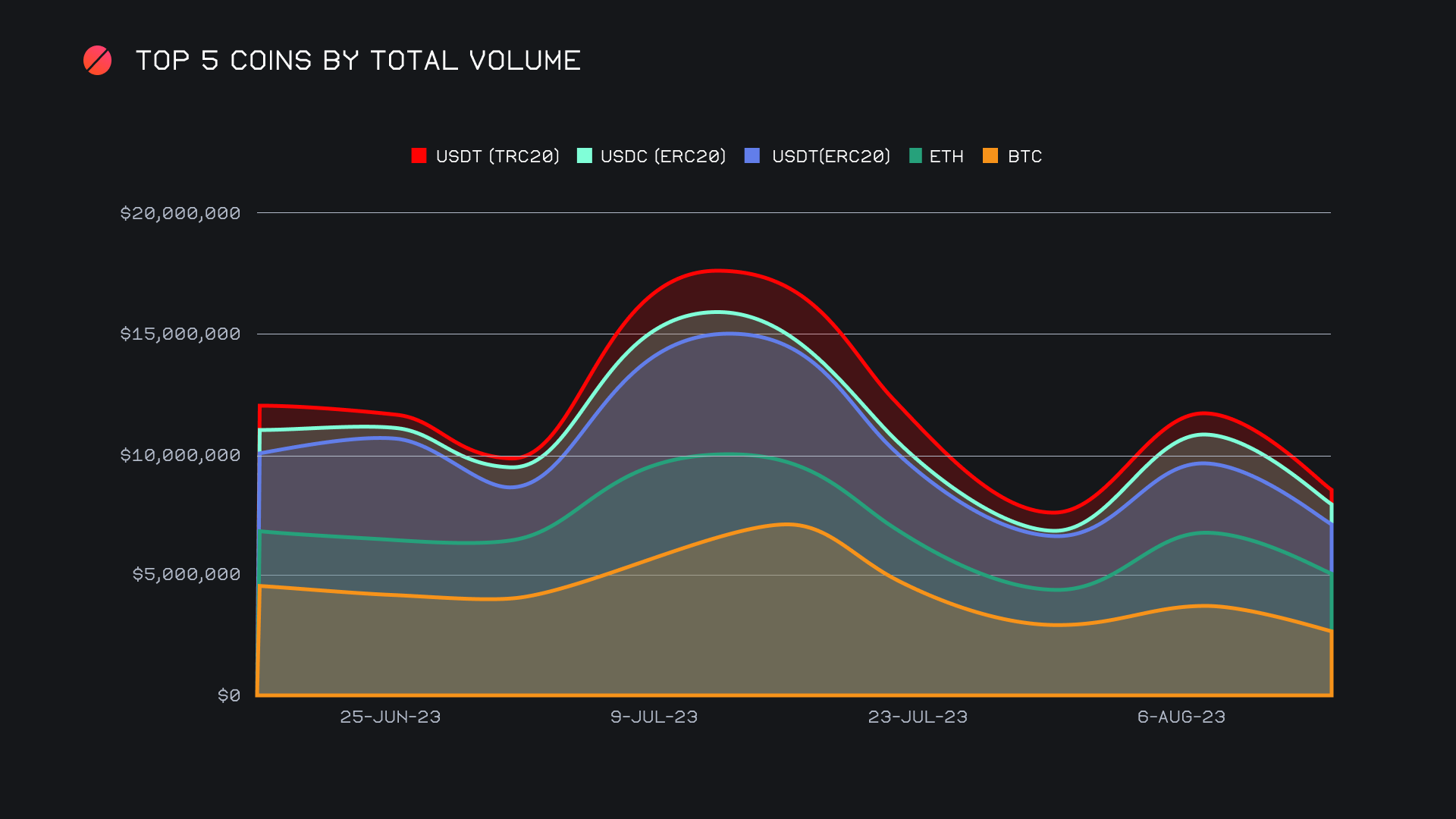 As a result of user ETH and USDT (ERC-20) demand, the Ethereum network grew to account for a majority of shifting this week. 54.5% of shifts completed included a coin on the Ethereum network, while alternate networks to ETH combined for a lesser 41%. Impacted most heavily among these alternate networks was the Tron network, which nearly halved from the $1.5m performance it had in the last report. A 52% decline in TRX shifting, combined with USDC (TRC-20) shifts plummeting from $295k to a measly $3k this week no doubt caused this drop. Still, the Tron network managed to finish atop the list with a combined sum of $741k. Close behind, and one of the few bright moments this week was the performance of the ARB network. In particular, 6th placed ETH (ARB) skied 62% for $426k and contributed to volume on the ARB network growing by 55%. With $722k, it ended in second place, right on the heels of the Tron network. In third place was the Binance Smart Chain network (BSC) with $565k (-18.8%). As a whole, alternate networks to ETH combined for $2.3m (-22.5%), with summed shift count finishing with 3,474 (-7.5%).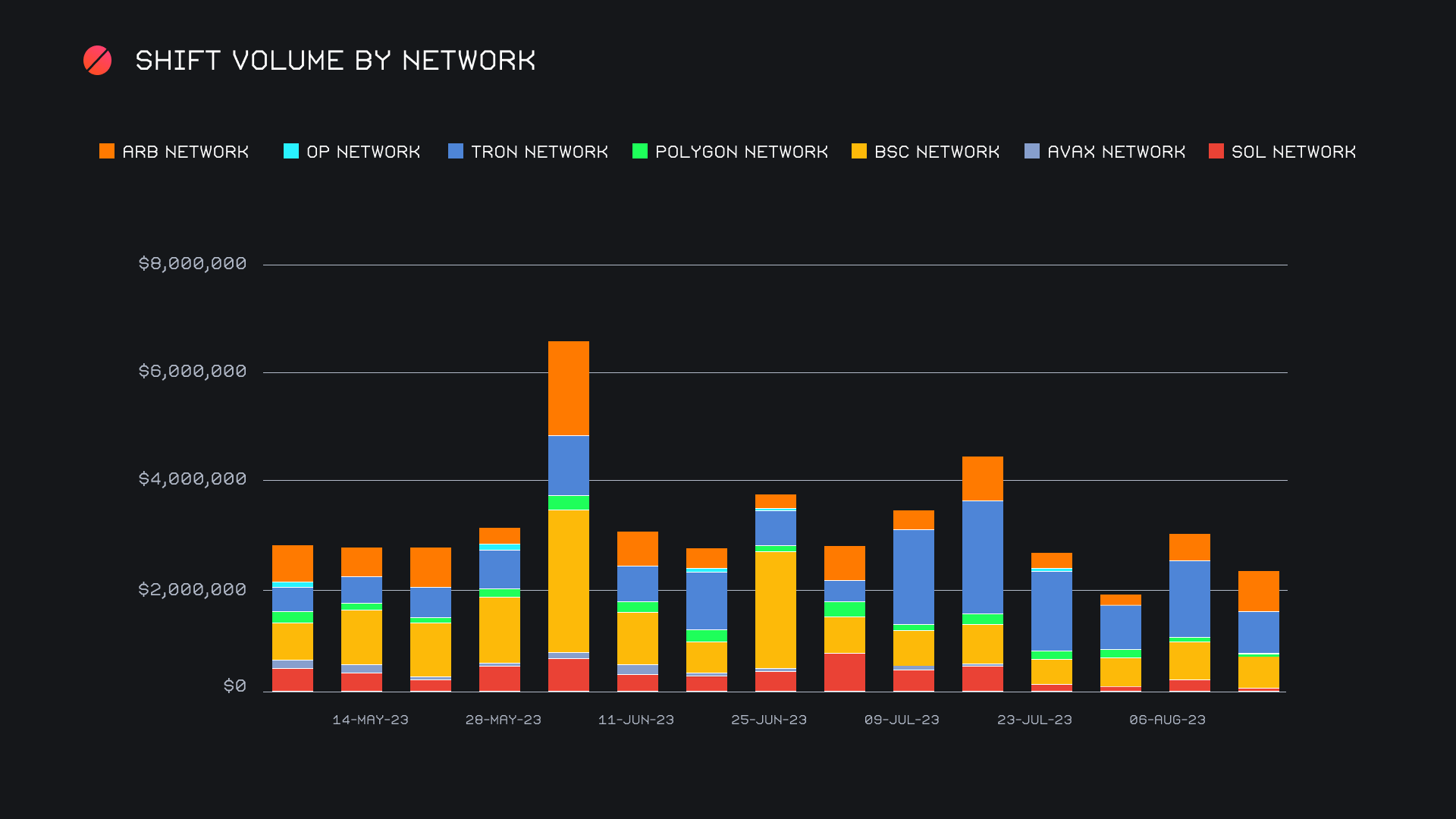 A quick look at user stablecoin shifting reveals a net outflow of -$315k, the lowest outflow since we began tracking this metric. What this means is that the sum of user stablecoin deposits is slowly inching closer to that of settlements. USDT (ERC-20) is clearly the most common and consistently shifted stablecoin, while others appear to be more sporadic. For example, both USDC (ERC-20) and USDT (TRC-20) saw large one time influxes, leading to deposits exceeding that of settlements on August 10th and 12th. It is likely that once we begin to see stablecoin deposits exceed settlements on a consistent basis, we can assume SideShift users have shifted to a more bullish mentality. For now it is probable that we will continue to see high amounts of stablecoin settlements, with USDT (ERC-20) leading the way.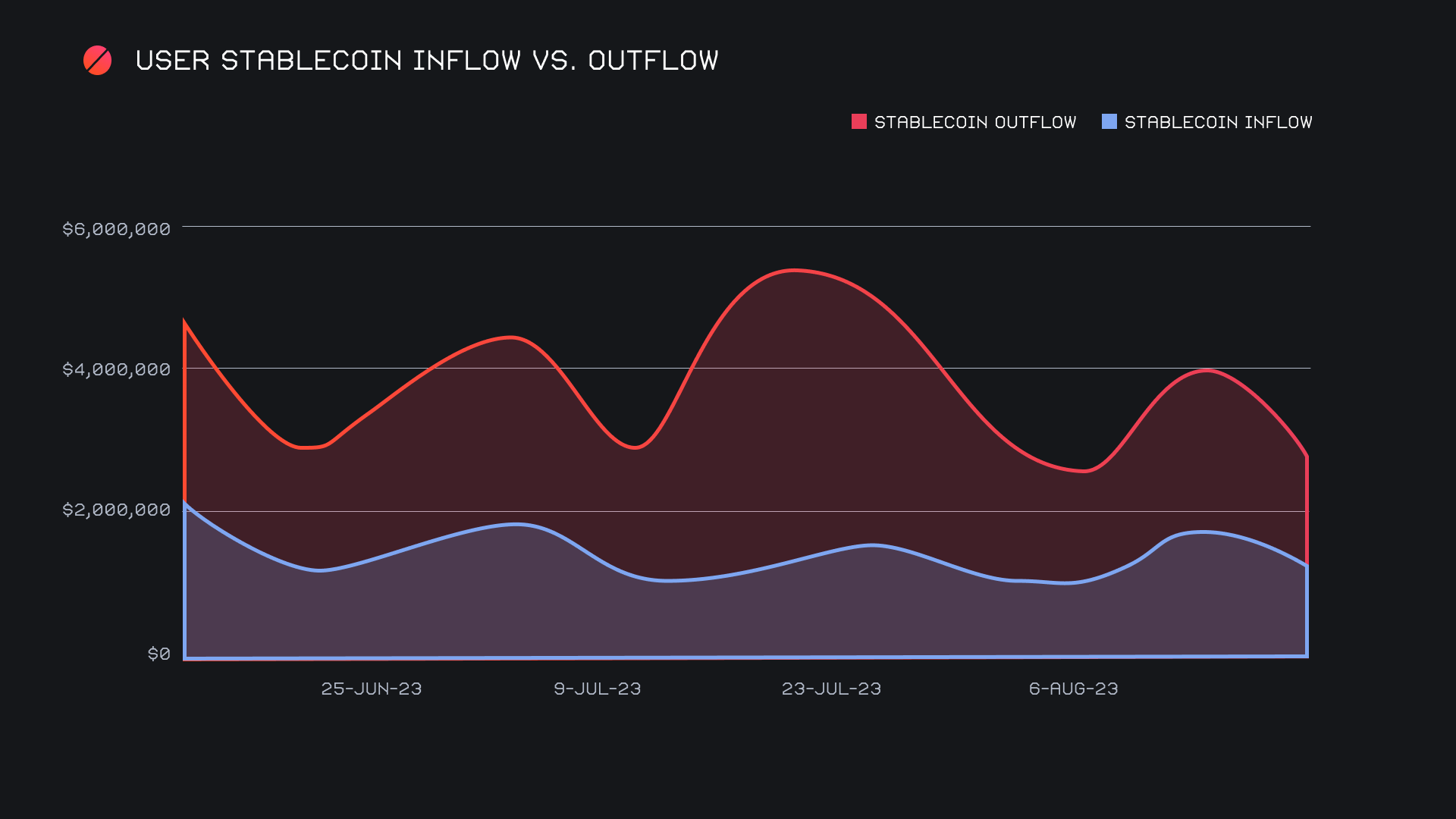 Affiliate News

Over the course of the quiet summer months, our affiliates continue to see steady shifting. This week they combined for a gross $1.9m (-30.3%), a rather large percentage decline in the wake of last week's big performance, but a respectable sum nevertheless. The combined shift count for our top 10 ended with 1,960, just 5% lower than last week. Our top affiliate remains unchanged. It continues to sustain its momentum and stay above the $1m mark, this week representing 18.2% of volume and 22.4% of shift count.

Overall, our top 10 affiliates accounted for 32.6% of weekly volume, 2.7% lower than last week's proportion.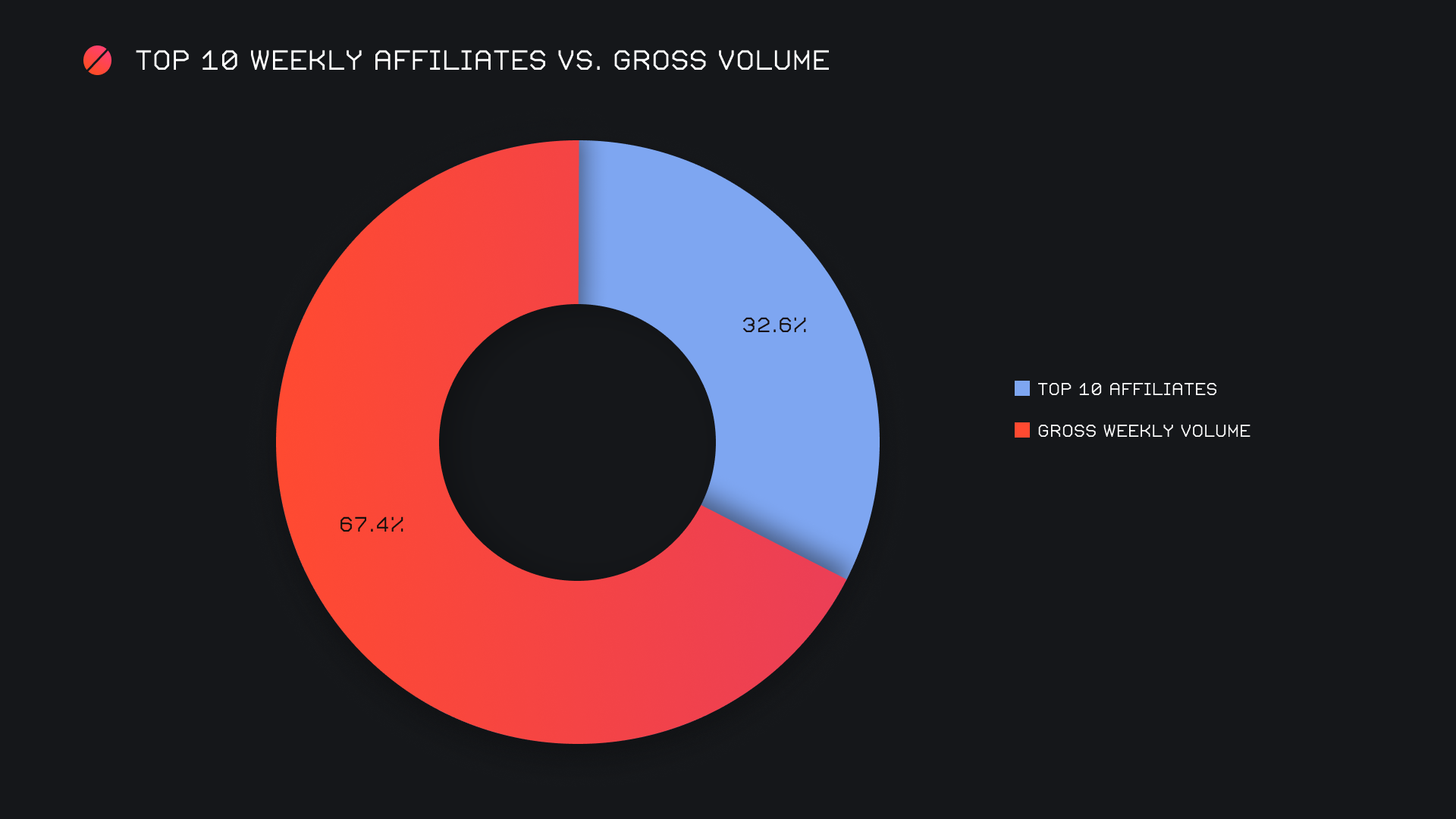 That's all for now. Thanks for reading, happy shifting and we'll see you next time.