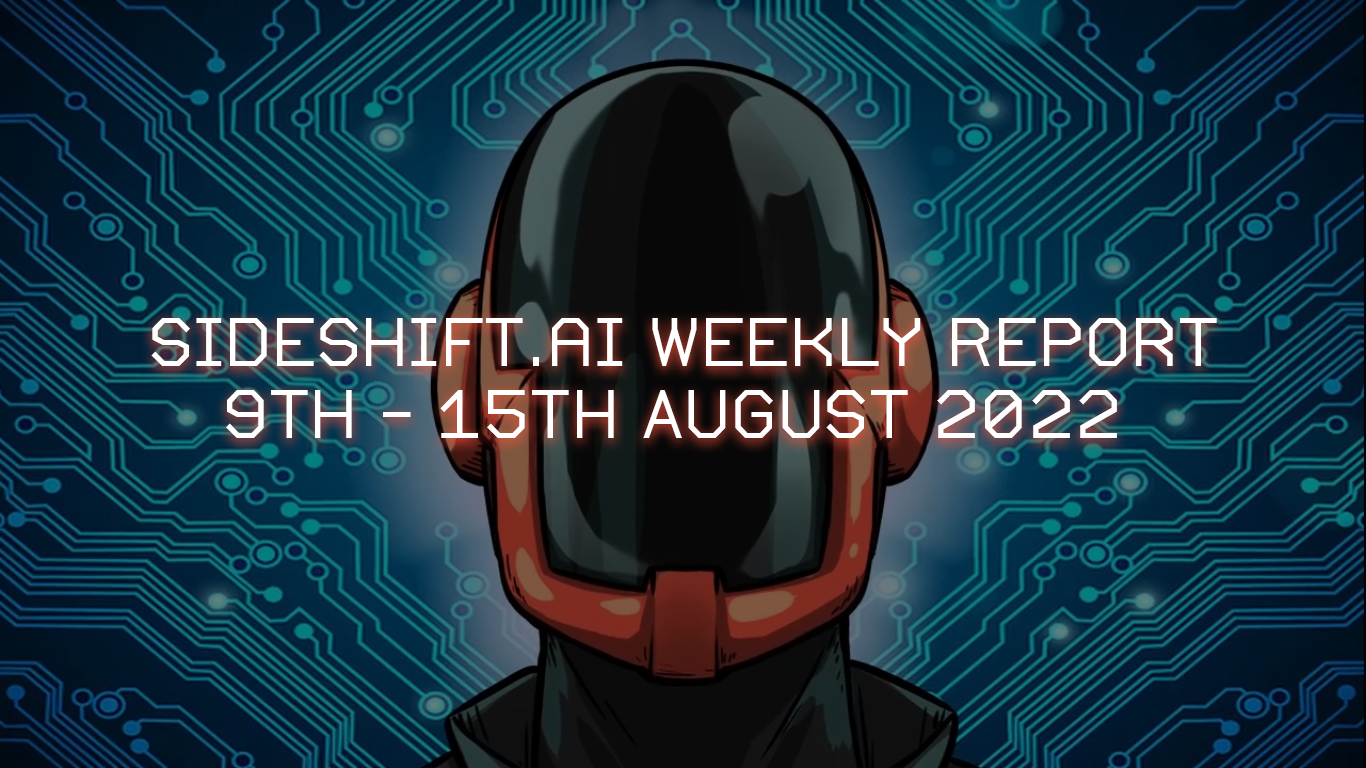 16 August, 2022
SideShift.ai Weekly Report | 9th - 15th August 2022
Welcome to the fifteenth edition of the weekly stats report - your one-stop shop for all things SideShift.ai.

XAI Token Market Update

This week saw SideShift token (XAI) range between $0.106266 / $0.124325, and a current market cap of $9,994,573 places XAI in position #930.

At the time of writing, the price of XAI is sitting at the bottom bounds of that range, at $0.107954. Don't forget that you can easily view this information along with several other SideShift.ai related statistics at our Dune dashboard.

SideShift is happy to announce that this week our treasury achieved an important milestone and reached $1m in total value. Our long term goal is the continued growth of this balance - users are invited to follow along with on-chain treasury activity as it unfolds, shown here on DeBank.

Throughout the week SideShift stakers observed a very healthy average APY of 33.60%, approximately 6% higher than the all time average. On August 13th, a daily rewards high of 39,984.89 XAI (49.43%) was deposited to our staking vault following a daily volume of $1.05m.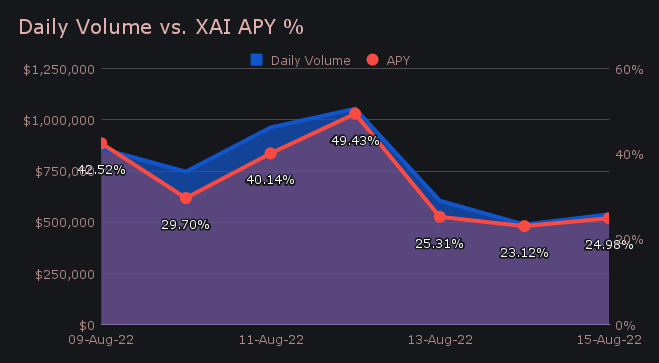 Additional XAI updates:

Total Value Staked: 36,272,061 XAI
Total Value Locked: $3,914,169

General Business News:

As the overall market observed a minor counter trend rally, SideShift noted the same general trend with increases in overall shift volume and count when compared to last week. A net weekly volume of $5.26m (+22.4%) combined with a weekly shift count of 6,023 (+7.3%) for daily averages of $751k on 860 shifts.

Ethereum grabbed the top spot as the week's most popular settle coin with $1.32m, replacing BTC who had held first place for the previous 4 weeks. Accompanying this 66% jump in ETH settlements was an 85% increase in ETH deposits. As a whole, ETH totalled $2.50m (deposits + settlements) and showed the most significant change among our top coins.

BTC remained our most shifted coin overall with a total weekly volume (deposits + settlements) of $2.75m (+32.4%). In fact, the only coins in our top 8 which saw less overall volume week on week were XMR ($1.12m, -7%) and USDT (erc20) ($756k, -0.2%), and the changes were negligible. Interestingly for both of these coins, decreases in volume came with an increase in shift count.

Despite network instability, Solana continued its uptick in overall volume, which has increased each week for the past 4 weeks. This week, SOL was our 6th most shifted coin when measuring total volume, with $428k. This mainly derived from the settle side, with SOL settle volume summing to $329k. This ranked SOL as our 5th most popular settle coin. A major part of this was the popularity of the ETH/SOL pair, which started off the week very strong before slowing down. It finished just outside the top 4 pairs, with a volume of $228k.

A handful of other coins saw large percentage growth from the previous week, although the volumes still remained relatively small. Some examples from this week are BUSD ($111k, +109%), XRP ($83k, +167%), MATIC on the Polygon network ($80k, +34%), ADA ($56k, +236%), and recently listed CRO ($32k, 248%). The volume from these "less popular" coins seems to come and go in waves. Some of this growth is illustrated in the charts below, as the "mid level" settle coins are eating away at space that was once occupied by BCH.

By and large, the majority of listed coins on SideShift saw more general activity with increased volume and shift count. Still, the bulk of our volume derived from our top 4 coins (BTC, ETH, XMR, USDT(erc20) ), which also combined to create all of our top 4 coin pairs. The top pair of BTC/ETH represented 10.08% of weekly volume ($530k) and 6.38% of shift count, as 36% of deposited BTC volume settled to ETH.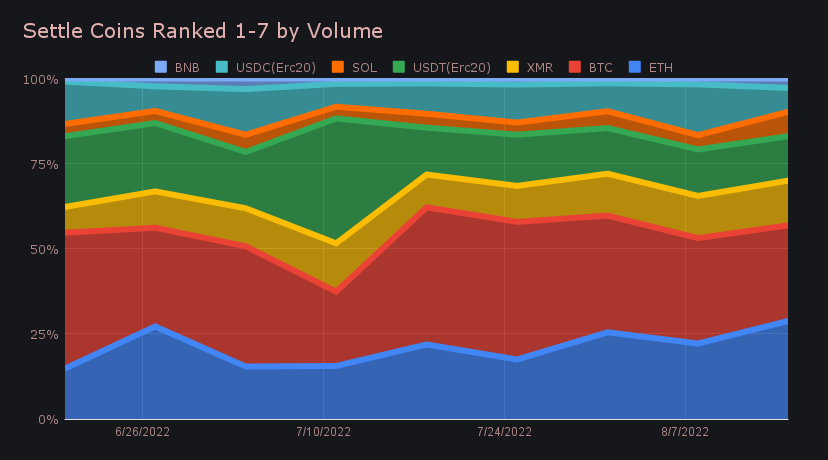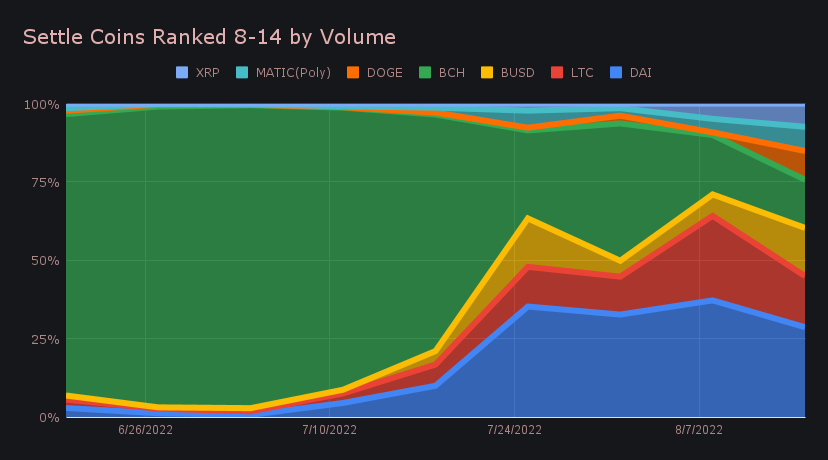 In general news, SideShift had a busy and mostly stable week, with a few minor issues arising.

Most notably was the network upgrade to XMR, which seemed to affect many transactions. We encountered brief downtime where XMR deposits were not being detected and payments were stuck sending out. We noticed a big uptick in users contacting due to funds not appearing in wallets, despite actually being sent. We advise all users to ensure their wallets are properly synced to avoid this confusion.

This week SideShift was very happy to list a heavily requested coin, TRON (TRX). TRX is the native token of the decentralized, open source platform known as TRON, and a current market cap of ~$347m ranks TRON 16th overall.

Our immediate plans revolve around continued expansion, with more listings, increased usability as well as growing our team. If interested, be sure to check out our current job postings and send us your application.
Integration News

Integrations carried on very similar to last week, accounting for 27.04% of total shift volume and 33.64% of count.

Bitcoin.com wallet continued its signs of strength and this week took the top spot among integrations with $644k (12.2%) in weekly volume. In fact, Bitcoin.com wallet was our strongest integration in the month of July, claiming first place with $2.94m.

As seen throughout recent months, Bitcoin.com also dominated weekly shift count among integrations with 1,037, which is once again nearly 5x higher than Trezor.

Trezor finished in second place when measuring volume, with $511k (9.7%), and Zat.gg took a big bounce back to seize third with $101k (1.9%). This is a significant 186% increase from what we saw last week.

Zat.gg wasn't the only integration to have a big recovery week. Exchangeinincognitobot netted ~$73k (+270% from last week), while Edge wallet totalled $58k (+30%). It is optimistic to observe more shifts coming from a variety of integrations, as volume from integrations outside the top 3 tends to fluctuate each week.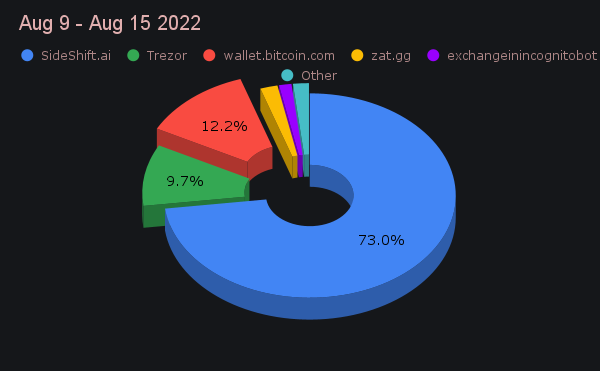 That's all for now. Thanks for reading, happy shifting and we'll see you next time.